Credit Cards for Bad Credit
Our recommended credit cards for bad credit - unsecured credit cards, secured credit cards, and prepaid debit cards
If you're having a tough time deciding which card to get or want to know how credit cards can help you rebuild your credit, read our recent featured article on this very topic.
Fair, middling or bad credit doesn't mean that your chances of being approved for a credit card are non-existent. There are a number of credit cards to build credit on the market targeted at consumers looking for a second chance at building their score. These cards offer you the opportunity to climb out of debt by showing creditors you're ready to use credit responsibly. There are several different types of credit cards for bad credit - all of which are designed to get you back in the good graces of creditors.
Many credit cards for poor credit are require a deposit, though there are some unsecured options on the market as well that can improve bad credit with no deposit. However, these unsecured cards can include high APR's and some undesirable annual fees. With that being said, we generally recommend applying for a secured card as these give you the best opportunity to improve your credit. Prepaid debit cards, while not a credit builder, also offer some great cardholder benefits. Below we've listed the best bad credit offers available to consumers in each category - Secured, Unsecured and Prepaid.
Find the best credit card for you.

Reports to Major Credit Bureaus?
Yes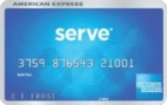 Reports to Major Credit Bureaus?
No
American Express Serve® Highlights
No credit check. No minimum balance. No hidden fees.
Get a $50 credit after receiving $250+ twice via Direct Deposit by 12/31/13*
Get free cash withdrawals at over 23,000 MoneyPass® ATMs nationwide
Rebuild Your Credit With a Bad Credit Credit Card
Here's some more information on how secured credit cards and prepaid debit cards can help you improve your personal finances moving forward...
What are secured credit cards? These work the same as regular credit cards, only you guarantee (or secure) your line of credit with a security deposit. Generally, you can secure as much as 100% of your credit line when you sign up. (For example, if you provide a $1,000 in credit, your credit line might be 70% of that to start.)
However, once you show the credit card company that you can make on-time payments and pay back your balance each month, your credit line may increase without an additional security deposit. Plus, in many cases your new, responsible banking will be reported to the three major credit bureaus and you'll have full access to your credit score and reports.
Find credit cards for bad credit with low interest to get the ball rolling on rebuilding your credit score today.
How do secured credit cards improve my bad credit?
Secured cards offer your best chance to get approved for a credit card because of the security deposit they require. Essentially, secured credit cards are not only one of the best options when it comes to bad credit credit cards - quite often they're the only option for improving your credit via a new card. We would absolutely recommend considering a secured credit card if you're hoping to improve your fair or bad credit.
Prepaid Debit Cards
Prepaid debit cards are another kind of card for bad credit. While they don't improve your credit score in any significant way, they are a great way to teach your teens about credit. Prepaid cards are pretty straightforward: once you're approved (and their 100% approval rate ensure that you will be), simply load money to your card (generally performed online) and begin swiping responsibly - that's it!
Prepaid debit cards work the same way as your banking debit card. As long as you're keeping track of your balance, you'll have no issue using a prepaid debit card. There's no credit line on these cards, which is what makes them a good training tool for young adults new to credit; essentially, they can become accustomed to tracking their limit without the danger of falling into debt.
Can prepaid debit cards improve my credit?
Unfortunately, for the most part the answer is 'No.'
However, there are some other benefits to using prepaid debit cards for bad credit. For instance, our favorite prepaid service, American Express Serve®, includes benefits reserved for cardholders such as roadside assistance and participating retailer discounts. So, while you won't improve your credit score using a prepaid debit card, there are still some perks to carrying one of these in your wallet. (Or passing one along to your son or daughter.)
Use the compare table below to find out more information on specific credit cards for bad credit. Plus, if you think you're credit is actually better than bad, you can learn about credit cards for fair credit or middling credit using Creditnet.com.