Gas Rebate Cards
Use a gas rewards card every time you're at the pump!
The one bright side of rising gas prices is bigger gas credit rewards for you when you use a gas rewards credit card! You can use gas rewards credit cards to start saving big - earn up to 5% cash back each time you swipe your gas rewards card at the pump! That cross-country road trip isn't looking so bad anymore, is it?
Gas rewards cards can earn you more than just cash. Each time you fill up, you could be dreaming about your next flight destination or free hotel stay. And if cash or travel rewards don't appeal to you, use the points you earn on your gas rewards credit card to purchase name-brand merchandise and gift cards.
Gas rebate credit cards work the same (and in many cases are the same) as cash back credit cards or rewards cards. And as a helpful tip, make sure to enroll in your credit card's bonus cash back categories each quarter, which have been known to include gas purchases especially during the summer months.
Find the best credit card for you from our partners.

Regular APR
17.90%-23.90% (Variable)*
Ongoing APR
17.9% -23.90% (Variable)*
Reports to Major Credit Bureaus?
Yes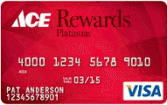 Regular APR
13.99% - 22.99%* (Variable)
Balance Transfer
Ongoing
13.99% - 22.99%* (Variable)
Gas Rebate Cards - (A Little) Relief at the Pump
If you've been by the fuel pump recently, odds are you've daydreamed about a world with free (or at the very least "cheaper") gas. Believe it or not, when you use a gas rebate credit card you can earn some serious cash back, which adds even the slightest relief when filling up at gas stations. And these days, any relief at the pump is worth considering.
You can also choose to spend your cash back rewards from gas rebate cards in a number of other ways, too, including travel, retail... whatever! But before you apply online, take into consideration a few important tips on gas rewards cards.
Check for Enrollment Programs
Often times, gas rebate credit cards offer bonus cash back opportunities when you swipe at the pump via enrollment plans. Enrollment plans are quarterly and include an extra incentive to make purchases in specific categories, whether it's gas, travel purchases or something else.
One of our favorite credit cards for gas purchases - the Discover it Card - requires that you enroll each quarter if you'd like to participate in their 5% Cashback Bonus® program. (And you ALWAYS want to.) Luckily, enrolling is quick and painless, generally requiring the simple click of a mouse. Some (though not all) quarterly programs include gas pump payments, but any cash back you receive with this card can be put to good use. (Like, say, at the pump...)
Some gas credit cards state in the fine print that purchases at gas stations include the actual fuel purchase ONLY, meaning you'll only receive cash back on the gas itself rather than other purchases within the convenience store. This isn't a big deal and it's not incredibly surprising - it's just something to note before going crazy on gas station purchases during your quarterly bonus program.
If you're a college student traveling back and forth from school for holiday breaks, winter vacation or long weekends, there are some gas credit cards for students designed specifically for you! For instance, Discover it for Students has been known to feature 5 percent cash back on categories that change throughout the year like gas, restaurants, movies and more up to $1,500 in purchases made that quarter with enrollment You can also earn a 20% Cashback Bonus® when you shop online through ShopDiscover® , making this a rewarding cash back credit card for students. (Granted, we would prefer unlimited cash back rewards on gas but, odds are if you're a student you're not paying more than $250 a month on gas and eating out for dinner, anyway.)
Check out our full list of student credit cards on Creditnet.com. For more information on how you can earn cash back at the pump, click on your desired credit card above for specific details on how each card can earn you gas rebates.