Gas Rebate Cards
Use a gas rewards card every time you're at the pump!
Gas rewards cards can earn you more than just cash. Each time you fill up, you could be dreaming about your next flight destination or free hotel stay. And if cash or travel rewards don't appeal to you, use the points you earn on your gas rewards credit card to purchase name-brand merchandise and gift cards.
Gas rebate credit cards work the same (and in many cases are the same) as cash back credit cards or rewards cards. And as a helpful tip, make sure to enroll in your credit card's bonus cash back categories each quarter, which have been known to include gas purchases especially during the summer months.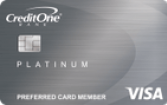 Ongoing APR
17.99% to 23.99% Variable
Reports to Major Credit Bureaus?
Yes
Credit One Bank® Unsecured Visa® for Rebuilding Credit Highlights
See if you Pre-Qualify without harming your credit score. Find the card that's right for you in less than 60 seconds.
CreditOneBank.com and the Credit One Bank mobile app makes it easy to access and manage all your account information and make payments whether you're at home or on-the-go.
Find the best credit card for you from our partners.
Gas Rebate Cards - (A Little) Relief at the Pump
Believe it or not, when you use a gas rebate credit card you can earn some serious cash back, which adds even the slightest relief when filling up at gas stations. And these days, any relief at the pump is worth considering.
You can also choose to spend your cash back rewards from gas rebate cards in a number of other ways, too, including travel, retail... whatever! But before you apply online, take into consideration a few important tips on gas rewards cards.
Check for Enrollment Programs
Often times, gas rebate credit cards offer bonus cash back opportunities when you swipe at the pump via enrollment plans. Enrollment plans are quarterly and include an extra incentive to make purchases in specific categories, whether it's gas, travel purchases or something else.
Some gas credit cards state in the fine print that purchases at gas stations include the actual fuel purchase ONLY, meaning you'll only receive cash back on the gas itself rather than other purchases within the convenience store. This isn't a big deal and it's not incredibly surprising - it's just something to note before going crazy on gas station purchases during your quarterly bonus program.
For more information on how you can earn cash back at the pump, click on your desired credit card above for specific details on how each card can earn you gas rebates.