Credit Cards for Fair Credit
If you have a fair credit score, these are the best credit cards for average credit in the marketplace: they offer low or no annual fees, cash back, and more.
Many credit cards for fair credit feature a low or no annual fee and an instant approval decision, so be sure to scan the details regarding special promotions, rewards programs, annual fees, and other pertinent information before applying. Congratulations — you're on your way to improved credit.
Generally, a fair or average credit score ranges from 650-699, putting consumers precisely on the fence when it comes to receiving the best interest rates from credit companies. Credit cards for average credit help you build your credit even further by using a number of strategies and incentives to pay your bill on time each month, including rewards, cash back and lowered APR's over time.
If you have average credit that you're hoping to build or re-establish, consider our recommendations below for the best credit cards for fair credit on the market today.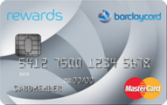 Barclaycard® Rewards MasterCard® Highlights
2X points on gas, utility and grocery store (excluding Target® and Walmart®) purchases and 1x points on all other purchases
No annual fee
Points don't expire as long as account is open, active and in good standing
Regular APR
15.65% -24.15% (Variable)*
Credit One Bank® Unsecured Visa® Credit Card Highlights
Interested in growing or rebuilding your credit? We report monthly to all three major credit bureaus. Take advantage of free online access to your credit score and credit report summary.
See if you're Pre-Qualified in less than 60 seconds.
This is a fully functional, unsecured credit card - not a debit, prepaid, or secured card. No need to load funds or tie up cash in deposits. There are no out-of-pocket costs to open your account.
Regular APR
16.65% - 23.90% variable APR depending upon credit worthiness.
Since your credit scores will take a small ding every time you apply for a new credit card, make the most out of each application by applying for cards your credit score qualifies for. That way, you'll increase the chance of your being approved the first time around.
Regular APR
15.65% to 24.15%, based on creditworthiness
Indigo® Platinum MasterCard® Highlights
Pre-qualification available with no impact to your credit score
Previous bankruptcy OK
Easy pre-qualification process with fast response
Pages
Find the best credit card for you from our partners.
Fair Credit Credit Cards
For starters, "fair credit" is not necessarily a "dirty" word in the credit world. While there are certainly some limitations on what types of credit cards you'll likely get approved for, there are several good credit cards on the market specifically targeted at building credit scores in the "fair credit" range.
Fair credit score consumers are wise to consider the following things when applying for a credit card:
Annual Fees
If you have fair credit, you'll have a stronger chance of getting approved for a credit card that requires some kind of an annual fee. Generally, these fees are small. But in this day and age, any money saved is worthwhile, right?  Which is why we always recommend cards with the lowest annual fees in the marketplace.
APR and Intro Periods on Fair Credit Credit Cards
Creditnet.com always recommends paying off your bill in full each month. However, we realize that paying your balance in full is not always realistic for all consumers, in which case we recommend applying to fair credit credit cards with a lower APR. Obviously, the lower the interest rate the more you can focus on paying off your balance. That's a pretty simple concept to grasp.
In that regard, Introductory periods with 0% APR are also pretty simple to understand. Some fair credit credit cards offer introductory periods that do not charge interest for 6 months or longer. If you think you may carry a balance on your card from time to time, consider a card with a longer introductory period and low APR so that you're paying off more of your balance then you are in interest fees each month.
(Remember, if you're a student be sure to check out our list of the best student credit cards on the market today. And if you're not exactly sure what your credit score is, use one of our recommended partners to find out your credit score today!)