Credit Cards With Rewards
The best rewards cards allow you to earn points now and choose your rewards later.
All credit cards were not created equal. General rewards credit cards mean as you earn points you get your choice of rewards: free flights, hotel stays, merchandise, entertainment or plain, hard cash. After all, we all like (love) free stuff - especially money! Since you're already paying for gas, groceries and everyday expenses, you may as well be rewarded for being a consumer.
General rewards credit cards help you earn all kinds of freebies simply for swiping your card and paying off your balance each month. You can earn bonus points with many of the rewards credit cards listen below. Don't forget that some rewards cards also offer discounts and/or double points on some of the things you enjoy doing most, like dining out and watching movies. Explore your options today, and reap credit card rewards tomorrow.
Scroll below to search for rewards credit cards.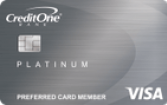 Ongoing APR
17.99% to 23.99% Variable
Reports to Major Credit Bureaus?
Yes
Credit One Bank® Unsecured Visa® for Rebuilding Credit Highlights
See if you Pre-Qualify without harming your credit score. Find the card that's right for you in less than 60 seconds.
CreditOneBank.com and the Credit One Bank mobile app makes it easy to access and manage all your account information and make payments whether you're at home or on-the-go.
Find the best credit card for you from our partners.
Rewards Credit Cards
These days, it's all about the credit card rewards. Rewards cards can come in various types; there are travel rewards cards, cash back rewards credit cards and gas rebate credit cards to name just a few.
While each rewards card offers its own variation of rewards programs, the same general idea is consistent: the more you spend, the more rewards you earn. Credit card companies use rewards as an incentive for consumers to swipe using their card. We recommend using your rewards credit card to earn points, but don't over-reach on your monthly budget; swipe your card on the stuff you're buying anyway and know you can pay back to stay out of credit card debt. (Or, to keep it simple - pay back your balance each month!)
This is especially important for college students or young adults new to credit. Many credit cards for students or credit cards for limited credit do their best to teach responsible spending early by rewarding customers with cash back opportunities for on-time payments and paying your balance back in full.
Once you've got the responsible spending part down, here are some ways in which rewards credit cards allow you to earn freebies:
In general, these are the most popular types of rewards. (C'mon. It's free money.) Depending on the rewards credit card, there are a number of ways to earn cash back. Since each card is different, we'll give you the just; you can earn (usually) 1-2% on everyday purchases. If your credit card has a quarterly rewards program, then you can enroll into a program every three months or so in which you'll receive as much as 5% cash back on specific categories. (Gas and groceries, for example.)
Some credit cards offer a cash back bonus at the end of every year as another reward for being a customer. 
Get the full list of cash back credit cards on Credinet.com.
Another big reason people sign up for rewards cards are the travel perks, specifically airline miles, free or discounted hotel stays and gas rebate rewards. These types of cards are excellent for business travelers or people that just like to travel since you can acquire (in many cases) double points on travel purchases that you'd be making anyway.
Some rewards cards are co-branded by hotels or airlines, while others are broader and more flexible. Basically, when choosing a travel rewards card, simply consider what type of traveler you are; a loyal company man or woman, or a bargain hunter willing to try any company if the price is right.
For specific details on travel rewards cards, check out our guide to airline miles credit cards and begin saving up for your dream getaway today.
Last (but certainly not least) are business rewards cards. Depending on the size and scope of your business, there are a number of things to consider before applying. That being said, one of the factors you're sure to consider are business rewards.  Business rewards cards are similar to general rewards credit cards; you can redeem on airline miles, travel discounts or cash back.
In our opinion, it's the miles that can really make a difference for your business. (And add up in a hurry if you're on the road.) However, depending on the needs of your business, it could be the gas rebates that put a (albeit small) dent in your overhead. Plus, there are occupation-specific business rewards cards that are unique to small businesses and help you save on the everyday purchases you're used to making.
Like your approach to any credit card, it's all about finding the rewards card that matches best with your businesses' needs. Compare rewards credit cards above!