Business Credit Cards With Rewards
A great business credit card helps you run a great business.
These cards offer 0% introductory interest and low standard rates for your corporate purchases, whether your business is brand new, small or established. Business credit cards can also offer great rewards. Earn business cash back, miles for travel, or points for just about anything you want. Rewards can even be earned on employee credit cards. Employee cards are free and spending limits can be controlled.
There are several pros to carrying a business credit card in your wallet. If you're a small business owner, we highly recommend taking advantage of the lower APR's and more lucrative rewards programs associated with the best credit cards for business. After all, there's a reason many business rewards credit cards require a business tax ID when applying - if they didn't, everyone would try to get in on the action! Credit cards for small businesses don't just keep companies moving forward; they make doing business possible.
Consider your small business needs and budget when researching business rewards cards below.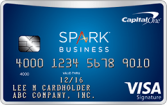 Find the best credit card for you from our partners.
Business Rewards Credit Cards - How they help your business
Any small business owner knows that owning the right business rewards credit cards can be crucial to keeping your business afloat and on track. A business credit card serves much the same purpose as a regular credit card, and quite often include similar rewards incentives.
With business credit cards that offer rewards, the idea is simple - find the card that works best for your business, use it to make all your relevant purchases and earn rewards your company can DIRECTLY benefit from; cash back, airline miles and supplier discounts.
Our favorite business credit cards are rewards-heavy; when you own a small business, every little bit helps. The trick is finding a rewards program that can do the most for you and your business. Pay special attention to introductory periods and sign-up bonuses when determining which business credit card to apply for.
For example, if a particular business credit card requires a spending threshold for bonus points that fits well within your budget then it's certainly worth considering as it could lead to some free cash or bonus airline miles.
Another important consideration when choosing a business credit card is interest. (It always is.) Generally, business rewards credit cards catch a small APR break compared to personal credit cards. This is one reason why most business credit cards require an employment identification number; these credit cards are tailor-made for business and offer perks and rewards set aside for companies versus consumers.
Finally, consider employee cards and whether or not points can be earned on credit cards when choosing which business rewards credit card to apply to. Employee cards are usually free and limits can be controlled, plus each employee card can help your company build credit and earn rewards.
Use our detailed comparison table of business rewards credit cards above to learn more.