Airline Miles Credit Cards
Airline miles credit cards get you to your dream destination faster! 
Credit cards for travel are designed to give jet-setters the most miles for their money. With every purchase on an airline miles credit card, you're one step closer to the other side of the world. Earn points toward free travel on any major airline with the recommended airline miles credit cards below.
Earning airline rewards has never been easier. Some credit cards give you enough bonus miles after your first purchase for a free flight plus more to spare. Rack up miles on your favorite airline by getting a co-sponsored airline miles card, or get a card whose miles you can use on any airline.
Whether you're a business traveler or a travel enthusiast that loves hitting the road, using a travel rewards card is a must for acquiring free miles and earning rewards on your travel purchases. Credit card miles can be accrued in all sorts of ways but, just like cash back, the general idea is the more you spend, the more you earn.
Browse airline credit cards that reward you with miles below, and compare airline credit card perks with our brand new infographic.
Find the best credit card for you from our partners.

Regular APR
14.99% or 18.99%* Variable
Balance Transfer
0%
within 45 days of account opening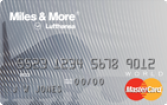 Regular APR
15.99% or 24.99%* Variable
Balance Transfer
0%
within 45 days of account opening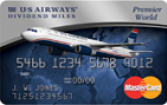 Regular APR
15.99%, 19.99% or 24.99%* Variable
Balance Transfer
0%
within 45 days of account opening
If you don't favor one particular airline, apply for an airline miles credit card that allows you to redeem rewards on any airline, any time. You will have more choices for travel dates and destinations since you're not restricted to a specific airline or partnership.
Regular APR
14.99% or 18.99% Variable
Balance Transfer
0%
within 45 days of account opening
Regular APR
13.99% - 21.99%*(Variable)
Balance Transfer
Ongoing
13.99% - 21.99%* (Variable)
Your Average Savings

Year One
Year Two
Year Three
Total
Interest Savings on Balance Transfers
$0.00
$0.00
$0.00
$0.00
Interest Savings on Balance for New Purchases
$0.00
$0.00
$0.00
$0.00
* For Interest Savings on Balance Carried on New Purchases calculations, we use the amount you input in your "My Credit Card Profile". Please note that as of February 2010, the CARD Act requires credit card companies to use customer credit card payments to pay off the highest APR portion of their balance first, which is more favorable for the customer.
Reward Points
$0.00
$0.00
$0.00
$0.00
This card offers 2 miles per $1 spent (estimated at $.02) on American Airlines flight purchases. Creditnet assumes 35% of total purchases made with this card are on these premium purchases, with the remaining 65% receiving the standard one mile per $1 (estimated at $.01)
Anniversary Bonus
$0.00
$0.00
$0.00
$0.00
Cardholders that spend $30,000 or more with this card each year earn a $100 airfare discount. Click the "Apply" button for full qualifying details.
One Time Bonus
$0.00
$0.00
$0.00
$0.00
Cardholders that make $3,000 or more in purchases within the first three months will earn the advertised bonus miles. Creditnet estimates that one bonus mile is earned for every $1 spent with this card, making the estimated value of this one time bonus worth $400. This one-time bonus will only display in your savings calculations if the monthly purchases entered into your "My Credit Card Profile" meet this qualification.
Free bags
$100.00
$100.00
$100.00
$300.00
Creditnet assumes cardholders make four roundtrip flights per year using this card. Cardholders that make their American Airlines reservation with this card are eligible to check their first bag free each way. One free checked bag on American Airlines flights is worth $25.
Balance Transfer Cost
-$0.00
-$0.00
-$0.00
-$0.00
* For Balance Transfer Cost calculations, we take the specific balance transfer fee associated with a card to determine the cost. Once this balance transfer cost is calculated, we deduct this value from the total savings amount. Please note that we only factor in this cost if a user intends to transfer a balance, as determined by selecting "Yes" under "I want to carry a balance" in your "My Credit Card Profile".
Annual Fee
-$0.00
-$95.00
-$95.00
-$190.00
* Annual fee costs are only deducted from your total savings when a card includes an annual fee. Credit cards that waive the annual fee for the first year have also been accounted for in our calculations.
Totals
$100.00
$5.00
$5.00
$110.00
* Credit card savings displayed are based on estimates as calculated by Creditnet.com, are not endorsed by any credit card issuer, and are for comparison purposes only. Savings vary based upon individual factors such as spending & payment habits and how long you expect to maintain the card.
Airline Miles Credit Cards and Travel Rewards Cards
With skyrocketing flight costs and the nickel and dime-ing of the airline industry, travel credit cards and airline miles credit cards are more popular than ever.
Here are a few things to consider when applying online for a travel rewards credit card...
Can I use my airline credit card miles with any airline?
Some travel rewards cards are airline specific; in that case, the short answer is no. However, there are several travel rewards credit cards that allow you to redeem your points with most any airline. In fact, a number of the travel rewards cards listed above are not partial to one specific airline. (Though the ones that are are clearly promoted as such.)
What is the benefit of a co-branded airline credit card?
If you're partial to one particular airline, then of course it's worth considering an airline miles credit card co-branded by your favorite airline. There are certainly some benefits to remaining loyal to one particular brand, as you can often receive preferred (or VIP) treatment from the company over time.
While there are obvious limitations to co-branded travel rewards airline cards (the biggest being you can only choose flights from your particular brand), credit cards that are co-branded can include airline discounts, in-flight perks and discounts on checked bags. You might even earn access into those exclusive airport lounges you've always been curious about when walking to your gate. (Admit it - it's fun to be "part of the club".)
So, if it's miles you're after, the right rewards card for you really just depends on what type of traveler you are.
OK, miles are cool but, can I opt for cash back instead?
In many cases, travel rewards cards offer a cash back option as well. So, if you like diversity when it comes to your credit cards rewards, you can have the best of both worlds. While some customers choose to stick with miles, it's nice to know that there are other options available when redeeming your cash back rewards on airlines miles credit cards.
Now that you know what to look for when applying online for an airline miles credit card, use our helpful comparison table above to find the best travel rewards card for you from our partners. Apply today and begin saving up for your next vacation tomorrow!