Chase Credit Cards

 Chase your dreams with Chase Bank.
Chase Bank offers credit cards with great rates and great rewards. Enjoy free alerts to help you manage your account, education planning tools, mortgage tools, advice and planning, 24/7 online account access, and more. Scroll below for our recommended Chase credit cards!
Find the best credit card for you.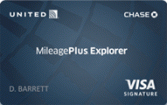 Chase United MileagePlus® Explorer Card Highlights
Start with 30,000 bonus miles after your spend $1,000 in the first 3 months
Check your first bag for free - save up to $100 per roundtrip
Earn double miles on United ticket purchases, and 1 mile per $1 on all other purchases
Your Average Savings

Year One
Year Two
Year Three
Total
Interest Savings on Balance Transfers
$214.20
$214.20
$214.20
$642.60
Interest Savings on Balance for New Purchases
$285.60
$285.60
$285.60
$856.80
* For Interest Savings on Balance Carried on New Purchases calculations, we use the amount you input in your "My Credit Card Profile". Please note that as of February 2010, the CARD Act requires credit card companies to use customer credit card payments to pay off the highest APR portion of their balance first, which is more favorable for the customer.
Reward Points
$48.60
$48.60
$48.60
$145.80
Creditnet assumes that 35% of purchases made with this card are on United ticket purchases. These premium purchases are worth double miles (estimated at $.02). Creditnet then assumes that the remaining 65% of purchases qualify for the standard one mile per $1 spent ($.01).
One Time Bonus
$0.00
$0.00
$0.00
$0.00
Cardholders that make $1,000 or more in purchases within the first three months will earn the advertised bonus miles. Creditnet estimates that one bonus mile is earned for every $1 spent with this card, making the estimated value of this the one time bonus worth $300.
Free bags
$200.00
$200.00
$200.00
$600.00
Creditnet assumes cardholders make four roundtrip flights per year using this card. Cardholders with this card are each eligible to check their first bag free each way. One free checked bag on United Airlines flights is worth $25, with up to $50 in savings each trip for an assumed total of $200 each year.
Balance Transfer Cost
-$135.00
-$0.00
-$0.00
-$135.00
* For Balance Transfer Cost calculations, we take the specific balance transfer fee associated with a card to determine the cost. Once this balance transfer cost is calculated, we deduct this value from the total savings amount. Please note that we only factor in this cost if a user intends to transfer a balance, as determined by selecting "Yes" under "I want to carry a balance" in your "My Credit Card Profile".
Annual Fee
-$0.00
-$95.00
-$95.00
-$190.00
* Annual fee costs are only deducted from your total savings when a card includes an annual fee. Credit cards that waive the annual fee for the first year have also been accounted for in our calculations.
Totals
$613.40
$653.40
$653.40
$1,920.20
* Credit card savings displayed are based on estimates as calculated by Creditnet.com, are not endorsed by any credit card issuer, and are for comparison purposes only. Savings vary based upon individual factors such as spending & payment habits and how long you expect to maintain the card.
Chase Bank Credit Cards
Chase credit cards offer their own set of unique perks, rewards and programs from the first time you sign-up and beyond.
Some of our most recommended credit cards on the market today have a Chase logo on them; the Chase Freedom® Visa (more below) is one of our favorite cash back cards. Meanwhile, the Slate ( SM )  from Chase Card - No Balance Transfer Fee is the only balance transfer credit card on the market today that offers FREE balance transfers during your intro period as a cardholder. 
Here are some perks to carrying a Chase credit card in your wallet.
Cash Back: For example, the Chase Freedom® Card rewards cardholders with a $100 cash back bonus after just $500 in purchases during their first three months, one of the lowest spending thresholds of any credit card offering bonus points today. Their quarterly programs include an additional 4% on rotating categories which, combined with their everyday cash back program, is 5% total. Oh, and if you like to travel...
Travel Rewards: ... the Chase Freedom® Card includes double cash back when you book your airline through their online booking engine, AND an additional 10% cash back when you shop online through their website. 
Get Preferred®: One of the most popular Chase credit cards is the Chase Sapphire Preferred® Card, easily one of the most lucrative rewards credit cards available today. Read our review of the Chase Sapphire ( SM ) Card to find out how to redeem points through their Ultimate Rewards ( SM ) Program and how to turn your Chase points into airline ticket discounts, hotel deals and more.
Still not sure which Chase Bank credit card is right for you? Take to the Creditnet Discussion Forum for feedback from everyday customers on which Chase credit cards they prefer to carry.