No Annual Fee Credit Cards
Hate paying an annual fee to use your credit card? Check out our expert reviews of no annual fee credit cards below.
Many of these no annual fee credit cards even offer introductory APRs as low as 0%, meaning you can enjoy an "interest-free" loan with your free credit card for an introductory period. If you hate paying an annual fee on your credit card, consider one of the recommended credit cards with no annual fee below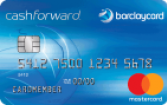 Regular APR
15.99%, 20.99% or 23.99% Variable
Balance Transfer
0% introductory APR for 15 months on Balance Transfers.
0%
Within 45 days of account opening
Barclaycard CashForward™ World Mastercard® Highlights
Get a $200 cash rewards bonus after you spend $1,000 in purchases in the first 90 days after account opening
Earn unlimited 1.5% cash rewards on every purchase. Every time you redeem, get a 5% cash rewards redemption bonus to use toward your next redemption
Redeem your cash rewards for a deposit into a U.S. checking or savings account, a statement credit or gift cards. Redemptions start at $50
Find the best credit card for you from our partners.
Our Favorite No Annual Fee Credit Cards
Our favorite credit cards with no annual fees have extended intro periods with 0% APR, which means you'll pay NOTHING in extra fees until your intro period expires. And even then, if you're paying your balance back in full and on time each month, you'll continue to pay zero additional fees. Not too shabby, right?
So, how much can you save on no annual fee cards? Let's compare some annual fees ...
First, let's remember that the term "annual fee" doesn't have to be a dirty word; many credit cards with annual fees offer some lucrative cash back rewards programs and great cardholder benefits in return for the annual fee that you pay. So, while an annual fee credit card isn't necessarily such a bad thing, we can understand why consumers like to avoid them when there are other cards available.
In general, annual fees on credit cards range anywhere from $19 to $400+ depending on the card. However, the average annual fee is usually under $100. (More specifically, anywhere from $79.99- $95.00.) So when you choose a no annual fee credit card over one that does have an annual charge, right off the back you're saving money. (And in some cases, quite a bit.)
Like we mentioned previously, annual fees can sometimes be a necessary evil when it comes to enrolling in some really good cash back and rewards programs. However, with so many great no annual fee credit cards available, you should know as a consumer that there are comparable cash back cards on the market that forego annual fees.
Browse through our no annual fee credit cards above, and join the Creditnet.com discussion for consumer information on all things related to credit.