Cash Back Credit Cards
The concept is simple: the more you spend on cash back credit cards, the more cash you get back!
There are several different cash back credit cards available, all of which offer unique ways to earn cash back on everyday purchases. However, the right cash back credit card for you will depend on your lifestyle. For instance, if you can't recall the last time you used your own dishwasher, then a card that rewards you for eating out is the perfect fit for you. If you're still frequenting the gas station despite rising gas prices, soften the impact on your wallet by using a gas rebate credit card. Take your time to figure out which cash back credit card will be the most rewarding for you.
Many cash back cards are even offering bonus cash back promotions for new cardholders. Some offer bonus cash after you've spent a certain amount in your first three months, and some offer special bonus categories that change each quarter. Be sure to read our reviews to understand how each card rewards you with cash.
As you've probably seen from TV commercials and sites like ours, there are seemingly endless cash back programs available; the trick is finding which cash back credit card can earn you the most rewards. Not only that, you must also determine what kinds of rewards you would like to receive, whether it's cash back, airline miles, gas rebate cards or points. Use our tool below to filter through cash back credit cards.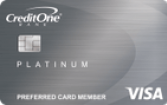 Ongoing APR
17.99% to 23.99% Variable
Reports to Major Credit Bureaus?
Yes
Credit One Bank® Unsecured Visa® for Rebuilding Credit Highlights
See if you Pre-Qualify without harming your credit score. Find the card that's right for you in less than 60 seconds.
CreditOneBank.com and the Credit One Bank mobile app makes it easy to access and manage all your account information and make payments whether you're at home or on-the-go.
Find the best credit card for you from our partners.
Cash Back Credit Cards That Work for Your Lifestyle
Here are a few ways in which cash back rewards credit cards can help you get the most out of your credit experience. And yes, we're talking about free stuff...
Cash Back Credit Cards - How do I earn the most cash back?
While cash back rewards depend on the credit card, the general rule is that the more you spend on cash back rewards credit cards, the more cash back you'll earn.
Cash back rewards are an incentive for customers to use their credit card exclusively. However, you don't want to let cash back incentives get you into trouble. Since many credit cards offer bonus rewards and incentives when you hit a particular spending threshold in a given amount of time, there's a natural urge by users to spend early and often. If this threshold is not in your monthly budget, we would recommend A.) ignoring the threshold or B.) applying for a cash back credit card with a lower bonus threshold. That's our first tip: Find a cash back credit card that matches your monthly budget.
That being said, these monthly incentives aren't always unrealistic. Some cash back cards offer $100 cash back when you spend $500 on the card in the first three months. That's a free $100 simply for swiping (and paying back) your card during your intro period. This leads us to our second tip: Check for incentives during your rewards card intro period.
Along with intro period incentives, there are a number of ways in which customers can earn even more cash back with temporary programs or bonus periods. Often, these credit cards require you to enroll to be eligible for the bonus cash back offer. Enrolling is simple - it rarely takes more than checking your email and clicking your mouse - and it often leads to exceptional cash back rewards on specific items you're generally going to buy, anyway. That's your third tip: Make sure to enroll in quarterly programs for the most cash back.
Finally, know what you're getting into with a cash back rewards card before signing up. If you're a business traveler hoping to earn airline miles, make sure you're signing up for a travel rewards program. If you're on the road constantly, consider a gas rebate credit card to ease the burden at the pump. If you LOVE free money (and we all do), not only do we recommend knowing what percentage cash back you earn, make sure to know HOW to get the most cash back. (Again, quarterly programs, bonus incentives, shopping online, stuff like that.) That's our final and most important tip: Read the fine print when enrolling in a cash back rewards card.
Now that you know what to look for when applying online for a cash back rewards card, we recommend browsing through our compare table of the best cash back credit cards above. Or, take your search to the Forum to find out from other consumers which cash back rewards cards have the best track record, and which rewards programs credit customers like you prefer.