Barclaycard Credit Cards
Barclaycard - credit cards available worldwide!
For over four decades, Barclaycard has been one of the most impressive credit card companies worldwide. Barclaycard credit cards are produced in association with Visa and MasterCard and are renowned for their excellent cash back programs. 
Check out our picks for the best Barclaycard options available and apply today!
Regular APR
17.49%, 21.49% or 24.49% Variable
Balance Transfer
Ongoing
17.49%, 21.49% or 24.49% Variable
Barclays Arrival® Premier World Elite Mastercard® Highlights
Each year, earn 25,000 loyalty bonus miles after spending $25,000 on purchases.
Earn unlimited 2X miles on every purchase.
Global Entry - Expedite your Re-entry with a $100 automatic statement credit for the cost of one Global Entry application fee every five years.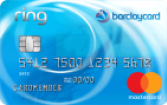 Barclaycard Ring™ Mastercard® Highlights
A low, variable APR on purchases, balance transfers and cash advances
No annual fee
No balance transfer fees
Find the best credit card for you from our partners.
Barclaycard - Credit Cards Available Worldwide
Barclaycard has been a staple in wallets worldwide since 1966; in fact, one in five credit cards in the UK are a Barclaycard. Barclaycard is making its case as a North American presence with exceptional cash back credit card offers and a great selection of excellent credit credit cards.  Barclaycard rewards are on par with some of our favorite rewards credit cards on the market.
That being said, we love more than just the rewards when it comes to Barclaycard credit cards. Some of our favorite services include...
Easy online banking: The Barclaycard website is easy to negotiate, and they've been a pioneer in online banking since they first debuted the feature in 1997. Easily keep track of your spending and payments when you become a Barclaycard cardholder online and via your smartphone with free text alerts.
NFL partners: NFL fans can sign up for the Barclaycard NFL Extra Points Credit Card to receive bonus points and cash back. Plus, you can earn double points on NFL purchases, and you can get a credit card with your favorite team's logo featured on it. 
Travel rewards: Barclaycard credit cards have partnered with some of the best travel companies today, including Virgin America airlines and US Airways. Earn airline miles with each swipe of your Barclaycard, or rack up online booking engine bonus points with websites like credit cards partnered with Travelocity and Priceline.
Fraud Monitoring & Emergencies: Barclaycard tracks your credit card globally, so they're quick to pick up on any strange activity. Plus, they offer an emergency cash advance if you find yourself abroad and without a card, as well as emergency card replacement. Feel secure knowing you're not alone with Barclaycard services.
Apply today for the recommended Barclaycard above that fits your credit card needs, and tell us about your Barclaycard experience in our Creditnet forum - we'd love to hear from you!