Journey(SM) Student Rewards from Capital One®
Journey(SM) Student Rewards from Capital One® Summary
Designed to help students build good credit with responsible use

Access to your monthly credit score, plus an interactive tracking tool to help monitor your credit

No annual fee

No foreign transaction fees
Creditnet's Full Review
Capital One® created the JourneySM Student Rewards Credit Card to help students build credit with responsible use of this card. Most students have either a limited credit history or "average" credit, so this card gives them the opportunity to not only build credit, but also to get rewarded in the form of cash back for every purchase they make. The JourneySM Student Rewards Credit Card has the following features:
Designed to help students build good credit with responsible use
Access to your monthly credit score, plus an interactive tracking tool to help monitor your credit
Customizable text and e-mail alerts to help keep you on track
Get 1% cash back on all purchases, plus a 25% bonus each month you pay your bill on time
No annual fee
$0 Fraud Liability if your card is lost or stolen
1% cash back on your purchases. While other cards require you to spend above a certain threshold before receiving a full 1% cash back, this card offers it from the first dollar you spend.
Earn a bonus for paying your bill on time each month. Being financially responsible includes paying your bills on time, so Capital One gives you a 25% cash back bonus each month your account is not past due on the last due of the billing cycle. For example, if you earned $100 in cash back last month and paid your bill on time, you'd earn an additional 25% of that $100—that's another $25 in your pocket! Not only are you rewarded in bonuses by Capital One for paying on time, but you're also building a positive credit history and developing good financial habits.
Unlimited rewards each year with no limits. The amount of cash back rewards you earn depends on how much you spend and is not subject to any caps. Credits and returns do not earn you cash back.
See where you stand with monthly access to your credit score. Monitor your credit score and see how it's affected with your responsible use of credit. The longer your history of responsible credit use, the better your credit score becomes.
Free text and email alerts to help you stay on track. Whether you're taking one class, a full load, working part time or full time, text and email alerts can help you remember to pay your credit card bills and check your usage. Text messages are sent for free from Capital One, but standard text messaging rates apply on the receiving end.
Three ways to request redemption for your cash back rewards. Call the toll-free number to the Rewards Center and talk to a live person to request the redemption of your rewards. Or log in to Capital One's Rewards site and request your cash back. Or set a threshold and you'll automatically receive your cash back when the threshold has been met. Thresholds can be dollar amounts (i.e. every $25 in rewards) or time (i.e. get cash back every month). And rewards can be redeemed as soon as they show up in your account.
Three types of redemption rewards. If you'd like to use your cash rewards any way you want, request a check and feel the cash in your hands. Or your rewards can be applied directly to your credit card statement to lower your current balance. Or if you're feeling particularly giving, redeem your rewards for brand-name gift cards.
Pay no annual fee for this cash back student rewards card.
Creditnet's Expert Rating & Review
by Joshua Heckathorn on February 25, 2016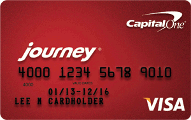 Favorite Card Features:
We love that you will earn 1% cash back on all purchases.
Least Favorite Features:
The APR on this card is set regardless of your credit history, so students with a good credit history under their belt will have the same interest rate as someone with no history. However, we always recommend students and credit newbies to pay off credit card balances in full each month to avoid going into debt. If you develop this habit, you'll never need to pay any interest on your balances.
Our Final Take:
Overall, we recommend this card for students new to credit. Although there are other student cash back credit cards that could earn you more than 1% cash back, you'd have to spend quite a bit each year in order to qualify for the higher cash back rewards rate. If you're new to credit, you should only charge necessities to this card and make sure you pay off your bill on time each month and in full.
Offer details may have changed since the last update of the information on this page. Please see Fees, Terms & Conditions for updated and complete information.
Purchase Rates

| | | | |
| --- | --- | --- | --- |
| Intro APR: | N/A | Credit Required: | fair |
| Intro Period: | N/A | Set Up Fee | N/A* |
| Ongoing APR: | 20.24(V) | Annual Fee | $0 |
| Penalty APR: | N/A | | |
User Reviews
Distribution chart
There are currently no reviews.
Be the first to write a review!
*Our user reviews are from real registered users