OpenSky® Secured Visa® Credit Card
Reports to Major Credit Bureaus?
Yes
OpenSky® Secured Visa® Credit Card Summary
Build Your Credit fast with our monthly reporting to all 3 major credit bureaus.

Choose your credit line as low as $200 up to $3000, secured by a fully-refundable* security deposit.

Security deposit needs to be submitted before the credit card can be issued.

No credit check necessary and no checking account required; apply in less than 5 minutes.
Creditnet's Full Review
OpenSky® Secured Visa® Credit Card is a card targeted at consumers hoping to build or improve their credit.
Like all secured credit cards, this Visa card requires a fully-refundable security deposit up front that guarantees a cardholder's credit line. There is an annual fee - recently lowered to just $29 a year - and this card has a proven track record of building credit with responsible credit card use.
Read below for what we like - and don't like - about this secured card from OpenSky.
Creditnet's Expert Rating & Review
by Jason Bushey on December 1, 2015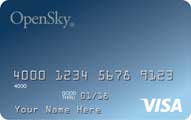 Favorite Card Features:
This secured credit card from Capital Bank is an excellent card for credit repair, and it's a great fit for bad credit consumers hoping to begin the journey towards a better credit score.
Least Favorite Features:
The OpenSky® Secured Visa Card® requires a minimum deposit of $200. However, this deposit is fully refundable and guarantees your line of credit.
Our Final Take:
Overall, this is a secured credit card that - when used responsibly - can help build your credit over several months of on-time payments. This credit card reports to the three major credit bureaus, and is a legitimate credit-building tool for bad or no credit consumers.
Offer details may have changed since the last update of the information on this page. Please see Fees, Terms & Conditions for updated and complete information.
Purchase Rates

| | | | |
| --- | --- | --- | --- |
| Intro APR: | N/A | Credit Required: | bad |
| Intro Period: | N/A | Set Up Fee | N/A* |
| Ongoing APR: | 17.50% Variable | Annual Fee | $29 |
| Penalty APR: | 21.50% | | |
Balance Transfer

| | |
| --- | --- |
| Intro APR✝: | N/A |
| Intro Period: | N/A |
| Ongoing APR: | 17.50% Variable |
| Transfer Fee: | 5% of the amount of each Balance Transfer |
User Reviews
Average user reviews
Based on 1 review
I have this card
Helpful to 0 out of 0 people
Reviewed on:

Wed, 2015-02-18 09:32
This is a decent beginner card with very high approval rating. Mine was around 560 when they approved me with a dozen missed payments caused by student loans I couldn't pay off. Still got approved. However this card has an annual fee and it will never grow unless you add a deposit. There are no rewards. If you are desperate and want a card that will approve you and has a reliable website this might be for you!   Check out Nerdwallet.com & CreditKarma.com both free websites that are amazing at tracking credit management.