Cash Back Credit Cards with 0% Interest on Purchases
Cash back credit cards with 0% interest on new purchases give consumers the best of both worlds. 
First, shoppers will earn anywhere from 1% to 5% or more cash back on new purchases made with their card. Second, they'll pay now interest on said payments for up to 15 months, depending on the card. And while Creditnet never recommends carrying a balance, it's nice to know that the 0% option is there if you're forced to carry a balance. Just be sure to pay that debt down to zero before your 0% intro period expires.
Some of our favorite cash back credit cards with no interest on purchases make enrolling in rotating bonus categories simple. And yet, other 0% interest cash back cards  we like will reward you with free money for simple things, like making your first purchase or spending $500 in the first three months of your account opening. We really can't emphasize enough how much we love free money at Creditnet.
Best 0% Cash Back Offer:  Discover it®
If you're getting ready to finance a big purchase, or you're finally ready to earn cash back on the everyday purchases you make anyway, the below cash back cards with 0% interest on new purchases are the very best available today...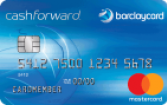 Regular APR
15.99%, 20.99% or 23.99% Variable
Balance Transfer
0% introductory APR for 15 months on Balance Transfers.
0%
Within 45 days of account opening
Barclaycard CashForward™ World Mastercard® Highlights
Get a $200 cash rewards bonus after you spend $1,000 in purchases in the first 90 days after account opening
Earn unlimited 1.5% cash rewards on every purchase. Every time you redeem, get a 5% cash rewards redemption bonus to use toward your next redemption
Redeem your cash rewards for a deposit into a U.S. checking or savings account, a statement credit or gift cards. Redemptions start at $50
Find the best credit card for you from our partners.
The cash back credit cards with 0% interest on purchases above make accruing cash back simple and rewarding, and offer considerable leeway when it comes to paying back these items interest-free.
Cash back credit cards come in two types: the ones that offer 1% to 2% cash back on all purchases, all the time, and the ones that offer 5% cash back in bonus enrollment programs. While it's really a personal opinion when it comes to which type of card is "better", we can all agree that any cash back is better than none.
0% interest cash back cards are valuable for just about every circumstance. For instance, if you're getting ready to move and know you'll be spending money on gas, new furniture, things like that, you can accrue a serious amount of cash back while making the purchases you had already planned on. And that zero interest period gives the time you need to settle in before paying it all back in one lump sum, though that's generally the strategy we recommend.
Remember to consider your budget and your purchases when choosing the best cash back credit card with 0% interest for you, and get ready to enjoy the fruits of FREE cash back. Really - it's free!