Best Credit Cards to Finance a Big Purchase
You've probably heard that it's a bad idea to finance a big purchase with a credit card. And yes, if you don't plan on paying that purchase back all that quickly, you run into the danger of interest fees and suddenly that Black Friday deal doesn't look like such a steal after all.
HOWEVER, if you do plan on paying that balance back right away, then paying for a big-ticket item with a new 0% interest card that also offers a cash back bonus as part of its signup incentive could save you as much as $100 on that big purchase. Here's how it works...
The cash back credit cards below include 0% interest on new purchases for anywhere from six to 15 months, depending on the card. They also include a $100 cash back incentive when you spend a certain amount on new purchases within a specific amount of time. Essentially, if you open one of the below cards and make a $1,000 purchase within your first three months as a cardholder, they'll reward you with a $100 statement, check or gift card, again depending on the card. Simply by using one of the below cards for your big purchase, you're saving yourself $100. Pretty good deal, right?
The below credit cards to finance a big purchase also include extensive 0% interest intro periods applied to purchases. We NEVER recommend hesitating to pay back your balance in full, but the extended intro period attached to these cards give consumers time to pay back those big-ticket items in incremental amounts if necessary.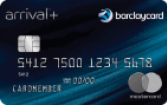 Regular APR
18.24%, 22.24% or 25.24% variable based on your creditworthiness
Balance Transfer
18.24%, 22.24% or 25.24% variable based on your creditworthiness
Within 45 days of opening account
Barclaycard Arrival Plus® World Elite Mastercard® Highlights
Limited Time Offer: Enjoy 70,000 bonus miles after spending $5,000 on purchases in the first 90 days
Earn unlimited 2X miles on every purchase
Find the best credit card for you from our partners.
How do you save money on your next big purchase of $500 or more? Use one of the recommended credit cards above and make your purchase within the first three months of the account opening, that's how!
The above cards offer $100 cash back bonus incentives, as well as 0% interest on new purchases. There are spending limits to meet and deadlines to do so, both of which can generally be achieved by making one big-ticket purchase. Simply apply for the card above that best meets your long-term criteria and current credit score (good or excellent, only), use the card to make your big purchase and enjoy the cash back bonus that comes with meeting their spending criteria and deadline.
Again, Creditnet does not recommend paying down big-ticket items with minimum payments, as that will surely lead to interest fees in the long run. However, if you know you can pay back that big purchase immediately, then the above cash back credit cards will save you money on your upcoming purchase.