The Discover® Open Road℠ Card for Students offer is currently not available from Creditnet.com
However the below card(s) are recommended by Creditnet as a great alternative to the Discover® Open Road℠ Card for Students:
Balance Transfer
10.99%
See Terms
Discover it® for Students Highlights
No annual fee. No overlimit fee. No foreign transaction fee. No late fee on your first late payment. And paying late won't increase your APR.*
5% cash back in categories that change each quarter. Now - June 30 earn 5% at Restaurants & Movies on up to $1,500 in purchases after you sign up.* 1% cash back on all other purchases.
Free FICO® Credit Score on monthly statements, online and in our mobile app.*
Regular APR
17.90%-23.90% (Variable)*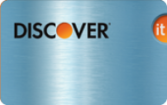 Balance Transfer
10.99%
See Terms
Some student credit cards will require you to disclose information about your schooling, such as your school's name, current major, and expected graduation date. Other cards may just ask you to disclose whether or not you're a student.
Regular APR
12.99% - 22.99% Variable*
Balance Transfer
10.99%
See Terms
Discover® Open Road℠ Card for Students
Are you a student who spends a lot of time eating out and driving in your car? Do you love the idea of earning cash back but would rather not have to worry about enrolling in rotating categories to earn it? Enter the Discover Student Open Road card. This card has most of the same benefits as the Discover More Student Card, except instead of rotating 5% Cashback Bonus categories that require enrollment each quarter, you'll earn a full 2% Cashback Bonus on the first $250 you spend on gas and restaurants each and every month. Any monthly purchases above $250 in gas and restaurant purchases will earn you the same cash back bonus rate* as the rest of your purchases. Here are some more details:
Earn a full 2% Cashback Bonus on the first $250 you spend at gas stations and restaurants each month.
*Earn up to 1% Cashback Bonus on all other purchases. The first $3,000 you spend each year (not including warehouse purchases and gas/restaurant purchases that have already earned you a full 2% cash back) will earn you .25% in cash back bonuses. Any purchases in excess of $3,000 each anniversary year will earn you a full 1% Cashback Bonus. Because warehouse stores, like Costco and Sam's Club, already offer such discounted prices, you'll only earn .25% cash back on these purchases.
Earn up to 20% in cash back rewards when you shop online via ShopDiscover. Before you make any online purchases at brand-name retailers with your Discover card, make sure to see if any specials are offered through ShopDiscover. Not only could you save money with special discounts, but you could also earn additional cash back bonuses just by linking to the retailer's website through ShopDiscover.
Earn unlimited rewards and redeem as often as you like. No limits are placed on the amount of Cashback Bonuses you can earn each year. And as long as your account has been used within the past 18 months, your rewards will never expire.
Tons of ways to redeem your rewards. Cash, check, statement credit, gift cards, and merchandise are all ways you can redeem your Cashback Bonus rewards. If you're feeling particularly charitable, donate your rewards to charity!
Pay $0 annual fee and 0% intro interest. Despite rewarding you with a full 2% cash back on up to $250 in gas and restaurant purchases each month, this card charges you $0 in annual fees and 0% in interest on purchases for 9 months.
Platinum-level benefits even for students. Discover is known for their great customer service, and you'll have access to a U.S.-based service center 24/7. You also won't be held liable for any unauthorized charges.