Capital One® Cash Rewards - $100 Cash Back Bonus
Capital One® Cash Rewards - $100 Cash Back Bonus Summary
$100 bonus after you spend $500 on purchases within the first 3 months

1% cash back on all purchases

50% bonus on the cash back you earn every year
Creditnet's Full Review
The Capital One® Cash Rewards - $100 Cash Back Bonus is an excellent cash back credit card by Capital One® and has the following features:
$100 bonus after you spend $500 on purchases within the first 3 months
50% bonus on the cash back you earn every year
1% cash back on all purchases
No annual fee
Earn unlimited cash rewards that don't expire
Redeem cash rewards anytime for any amount, even set up automatic redemptions
Personalize your card with an image of your choice
0% intro APR on purchases and balance transfers until May 2014
Creditnet's Expert Rating & Review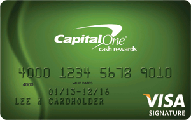 Favorite Card Features:
We like that this is truly a simple cash back credit card. You get a flat 1% cash back on your purchases, plus a 50% bonus at the end of the year with no enrollment necessary! And unlike some other cash back cards, you can use your cash back anytime you want by requesting a statement credit or a check. The one-time $100 bonus ain't bad, either.
Least Favorite Features:
This card has a lower cash back percentage than some other cash back credit cards. However, cards with higher cash back rates require you to either pay an annual fee or to enroll on a quarterly basis. They also limit how much you can earn from this higher % and require you to reach a certain amount in spending before your purchases start earning you the standard 1% cash back (normally starts at $0.25%). Whereas the Capital One® Cash Rewards card gives you 1.5% cash back (including the end-of-year bonus) from the first dollar you spend.
Our Final Take:
If you're looking for a simple cash back credit card with no annual fee, this is the card. No spending tiers, no enrollment requirements, no cash back limits, no bonus categories to keep track of. Simply multiple your spending by 1% and that's how much cash back you'll earn. Then multiple that number by 50% and that's the additional bonus you'll receive at the end of the year!
Offer details may have changed since the last update of the information on this page. Please see Fees, Terms & Conditions for updated and complete information.
Purchase Rates

| | | | |
| --- | --- | --- | --- |
| Intro APR: | 0.00% | Credit Required: | excellent |
| Intro Period: | until May 2014 | Set Up Fee | $0.00 |
| Ongoing APR: | 12.9% - 20.9%* (V) | Annual Fee | $0.00 |
| Penalty APR: | 29.4% | | |
Balance Transfer

| | |
| --- | --- |
| Intro APR✝: | 0.00% |
| Intro Period: | Until May 2014 |
| Ongoing APR: | 12.9% - 20.9%* (V) |
| Penalty APR: | 29.4% |
| Transfer Fee: | 3% of the amount of each transfer through your 04/2014 billing period. |
| ✝ Must initiate transfer: | By May 2014 |
Cash Advance Rates

| | |
| --- | --- |
| Ongoing APR: | 24.9% (V) |
| Penalty APR: | 29.4% |
| Advance Fee: | 3% of the amount of the cash advance, but not less than $10 |
Miscellaneous
Other Rates
Foreign
Transaction Fee:
0.00%
Min. Interest Charge:
$0.50
Credit Line
Min:
See Terms
Max:
See Terms
Penalty Fees
Late Payment:
Up to $35
Over the Credit Limit:
$0
Returned Payment:
Up to $35