The Alaska Airlines MasterCard® credit card offer is currently not available from Creditnet.com
However the below card(s) are recommended by Creditnet as a great alternative to the Alaska Airlines MasterCard® credit card: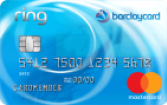 Barclaycard Ring™ Mastercard® Highlights
A low, variable APR on purchases, balance transfers and cash advances
No annual fee
No balance transfer fees
Regular APR
17.24% - 25.24% Variable APR depending upon credit worthiness.
Alaska Airlines MasterCard® credit card
The Alaska Airlines MasterCard® Credit Card, issued by MBNA Canada, is designed for those who travel frequently on Alaska Airlines.
Through the reward program, cardholders earn one mile per dollar spent on general purchases, and three miles per dollar spent on purchases of Alaska Airlines tickets, cargo purchases, in-flight purchases and special vacation packages. Accumulated miles do not expire as long the account remains active within a three-year period, and there is no yearly limit to the number of miles that may be earned. Miles can be redeemed with ten airline partners, and award travel begins at 20,000 miles.
The interest rate applied to purchases and balance transfers is reasonable for a reward card, though not ideal for those who plan to carry a balance. The annual fee is slightly high, though reasonable as compared to other signature airline reward cards.
Therefore, those who can afford to pay in full each month (to avoid finance charges) and plan to take advantage of the additional benefits that are offered may find the Alaska Airlines MasterCard® Credit Card as a suitable option.