The HSBC Union Plus® MasterCard® offer is currently not available from Creditnet.com
However the below card(s) are recommended by Creditnet as a great alternative to the HSBC Union Plus® MasterCard®: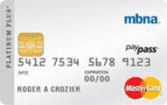 Intro APR
0 billing periods
Balance Transfer
0%
Within 10 mo. of opening acct
Regular APR
17.49%, 21.49% or 24.49% Variable
Balance Transfer
Ongoing
17.49%, 21.49% or 24.49% Variable
Barclays Arrival® Premier World Elite Mastercard® Highlights
Each year, earn 25,000 loyalty bonus miles after spending $25,000 on purchases.
Earn unlimited 2X miles on every purchase.
Global Entry - Expedite your Re-entry with a $100 automatic statement credit for the cost of one Global Entry application fee every five years.
Credit card companies generally offer their best deals to consumers who have proven they can responsibly handle credit. So if you're a consumer with good credit, you can earn tons of rewards in the form of cash back, miles, or points (that can be redeemed for pretty much anything!) just for doing what you're already doing—staying within your credit limits and paying your bills on time.
Regular APR
17.24% - 25.24% Variable APR depending upon credit worthiness.
HSBC Union Plus® MasterCard®
Attention Union Members! Announcing the only card endorsed by your union, the Union Plus® MasterCard®. Join the over 3 million members who benefit by carrying the Union Plus® MasterCard®, the only card endorsed by the AFL-CIO. Read on for the many benefits you'll receive as a Union Plus® MasterCard® cardholder.
The Union Plus® MasterCard® Works as Hard as You do!
No Annual Fee
Competitive Interest Rates, such as 8.99% Fixed APR on Balance Transfers
The Only Card Negotiated for Union Members
$0 liability on any unauthorized charges
24-Hour Personal Customer Service
Online Balance Transfer immediately upon approval
Receive a response to your application in 60 seconds!
Cardmember Benefits and Resources
Loans tailor fit for your financial needs: As a cardmember, you're able to make use of The Union Plus Loan Program, offering lower payments by way of longer payment terms. Along with these longer payment terms come low competitive rates to help you save on interest charges. Setup an automatic payment program for your loan payments and you'll receive an Annual Percentage Rate discount, making your monthly loan payments even lower!
Free Credit Report: Along with a complimentary copy of your credit report, you'll get a 30-day trial membership in CreditCheck® Monitoring Service.
Affordable education: The Union Plus Scholarship Education Foundation is a great foundation that annually presents awards to union members or members of their families who want to begin or continue their education.
Free Legal Services for Labor: Union Members get a free 30-minute consultation as well as 30% off subsequent legal services. Se Habla Espanol.
Credit Education: HSBC believes in educating their cardmembers on how to obtain and manage credit. All you need to manage your credit is right here.
Click, shop & save!: Exclusively for Union Plus® cardmembers are special offers and great discounts.
CreditCheck® Monitoring Servic: With identity theft and fraud so prevalent in today's society, a complimentary 30-day trial of CreditCheck® Monitoring Services will alert you if anything is awry.
NO ANNUAL FEE: That's right, no annual fee... ever!
COMPETITIVE INTEREST RATES: The Union Plus Credit Card offers competitive interest rates on purchases and Balance Transfers. Please note: if you received an invitation to apply by mail or email, you can find the Terms and Conditions in that invitation.
BALANCE TRANSFERS: Transfer your balance from high interest cards to the Union Plus® MasterCard® immediately upon approval. Start saving yourself interest charges right away.
SKIP PAYMENT PRIVILEGES: Union Plus® knows emergencies happen. That's why they offer you the privilege of skipping up to two payments a year without any penalty or damage to your credit rating!
STRIKE PAYMENT PROTECTION: You are able to skip payments for up to 3 consecutive months in the event of a union-sanctioned strike or lockout for 30 days or more. The Union Plus Credit Card is the only credit card that offers you Strike Payment Protection.
LOSS PROTECTION: All unauthorized charges are taken care of by The Union Plus Credit Card, you are not held liable for any unauthorized charges!
100% FRAUD PROTECTION: HSBC takes fraud very seriously, so if your account shows unusual activity of any kind, they'll notify you immediately in an effort to protect you against fraud.
24-HOUR CUSTOMER CARE: If you have questions regarding your account, you may not have a chance to contact HSBC during regular work hours. That's why they have setup 24-hour customer care, so you can contact them no matter what time of day.
UNION MEMBER ADVOCACY: Created by Union Privilege, this program helps you resolve disputes and handle concerns regarding any of the Union Privilege programs.