Capital One® Platinum Prestige Credit Card
Capital One® Platinum Prestige Credit Card Summary
0% intro APR until August 2014 on balance transfers

0% intro APR until August 2014 on purchases

No annual fee
Creditnet's Full Review
The Capital One® Platinum Prestige Credit Card is a great credit card for people with good to excellent credit and offers the following benefits and features:
0% intro APR until August 2014 on balance transfers
0% intro APR until August 2014 on purchases
No annual fee
$0 Fraud Liability if your card is lost or stolen
24-hour travel assistance gives you a replacement card and cash advance
24-hour roadside assistance
Pick an image for your card—choose the one shown here, any of the hundreds in our collection, or add your own
Creditnet's Expert Rating & Review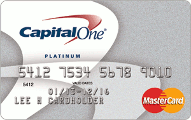 Favorite Card Features:
The 0 percent introductory period is one of the longest of any cards available today, and it's applied to new purchases and balance transfers alike. This is an excellent card to use for paying down an existing balance, interest-free.
Least Favorite Features:
No rewards.
Our Final Take:
This is the best 0 percent offer from Capital One. Few cards allow consumers to pay down their debt over such a vast period of time. If you're more interested in cash back or rewards, than keep looking. But if your main concern with your new card is the zero interest intro period, than this is one of the top offers to consider.
Offer details may have changed since the last update of the information on this page. Please see Fees, Terms & Conditions for updated and complete information.
Purchase Rates

| | | | |
| --- | --- | --- | --- |
| Intro APR: | 0.00% | Credit Required: | good |
| Intro Period: | until August 2014 | Set Up Fee | $0.00 |
| Ongoing APR: | 10.9% - 18.9% (V) | Annual Fee | $0.00 |
| Penalty APR: | 29.4% | | |
Balance Transfer

| | |
| --- | --- |
| Intro APR✝: | 0.00% |
| Intro Period: | until August 2014 |
| Ongoing APR: | 10.9% - 18.9% (V) |
| Penalty APR: | 29.4% |
| Transfer Fee: | 3% of the amount of each transfer through your 07/2014 billing period. |
| ✝ Must initiate transfer: | N/A |
Cash Advance Rates

| | |
| --- | --- |
| Ongoing APR: | 24.9% (V) |
| Penalty APR: | 29.4% |
| Advance Fee: | Either $10 or 3% of the amount of each cash advance, whichever is greater. |
Miscellaneous
Other Rates
Foreign
Transaction Fee:
0.00%
Min. Interest Charge:
$0.50
Credit Line
Min:
See Terms
Max:
See Terms
Penalty Fees
Late Payment:
Up to $35
Over the Credit Limit:
Up to $29
Returned Payment:
Up to $35