The Citi Simplicity® Card offer is currently not available from Creditnet.com
However the below card(s) are recommended by Creditnet as a great alternative to the Citi Simplicity® Card: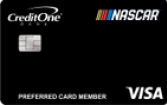 Regular APR
17.99% to 23.99% Variable APR depending upon credit worthiness.
Citi Simplicity® Card
The Citi Simplicity® Card from Citi, a Creditnet.com advertiser, prides itself in making life a little simpler for its cardholders. Here's why consumers find it a simple choice to choose the Citi Simplicity® Card:
Simple fee structure. No annual fees, no late payment fees, no over-the-limit fees - EVER. Actually, the only fees you'll pay are pretty standard ones for balance transfers, cash advances, foreign transactions, and returned payments (see table below for details).
Pay 0% interest for 18 months on balance transfers and purchases. The Citi Simplicity® Card is one of only a few cards offering such a long no interest promotional period to its new cardholders. Take advantage and save.
Pay the same interest rate for purchases, balance transfers, and cash advances. After the promotional no interest period is over, your interest rate could be as low as 12.99% based on a review of your creditworthiness for all transactions, including cash advances.
No penalty rates! For anyone who has paid late on a credit card, whether knowingly or accidentally, you've felt the dent put in your wallet by the spike in your interest rate. Just another way the Citi Simplicity® Card keeps credit simple—your rate stays the same even if you pay late. Keep in mind, however, that you may no longer be eligible for the 0% promotion if you make a late payment. If that's the case, then interest could start accruing immediately on your balances. Bottom line: always pay on time (and in full if possible)!
Direct access to a representative 24/7. No more long waits on the phone listening to staticky elevator music. Simply call, enter your account number, say "representative", and you'll be connected directly to live help.
This content is not provided by Citi. Any opinions, analyses, reviews or recommendations expressed here are those of the author's alone, and have not been reviewed, approved or otherwise endorsed by the Citi.