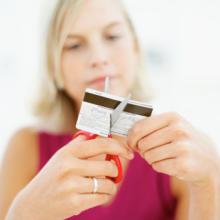 I've been hearing a lot about credit scoring myths these days in our Credit Talk forum. You've probably heard many of the ones I'm thinking of too: "quick and easy ways" to magically add points to your credit scores in a short period of time. Usually they're the same ones that have been circulating around for years, like these two favorites:
Close any credit card accounts you don't use, increase your income, and your credit score will increase too!
Just use cash to pay for everything and your credit will be perfect!
I hope you haven't fallen for any of these. If you have, I'm happy you're taking the time to visit this site and educate yourself about credit cards and how to use them responsibly. It's definitely a step in the right direction.