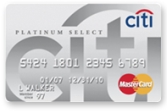 Dear Creditnet: I have a FICO score of 725 and I'm trying to find a 0% interest credit card that will allow me to transfer $25,000 from other cards so I can pay off this debt over the next year or so. It looks like the Citi Platinum Select Card offers the longest 0% interest period at 21 months, but will I get a high enough credit limit for this to work? I make nearly $200,000 per year, so I assume that will help my chances.
Answer: It's good to see you're taking the necessary steps to completely pay off this old credit card debt. Once you do, vow to never carry a balance on your credit cards ever again. With your healthy income, there's really no reason to be racking up credit card debt. Now, that's enough preaching from me, so let's answer your question. Unfortunately, it's impossible to know exactly what kind of credit limit Citi will offer before you apply for the new card.
There are a lot of variables at play here and they can change often. That said, since you have a good credit score and an excellent income, your chances of getting offered a high credit limit are better than most. If you already have other credit cards with limits above $20,000, your chances are even better. I like the Citi Platinum Select Card for balance transfers because it keeps things simple. It's a no annual fee credit card with a 3% balance transfer fee and the longest 0% interest period on the market. That makes it a great choice for what you're planning to do.
However, it's also important to remember that your plan could have a fairly significant negative effect on your credit scores. Let's say Citi offers you a 30,000 credit limit. You're pumped because now you can transfer your high-interest debt from several cards and pay it off over the next 21 months without incurring any interest charges. The problem is once you transfer the $25,000 balance to the new card with a $30,000 credit limit you all of a sudden have a new credit card that's almost maxed out.  Likewise, your overall credit utilization ratio, assuming your old accounts are all closed, would be over 80%! Your FICO scores won't like this at all, so you can expect to see a drop in your credit scores across the board.
Of course, the faster you pay down the balance, the faster your credit utilization and FICO scores should improve once again.