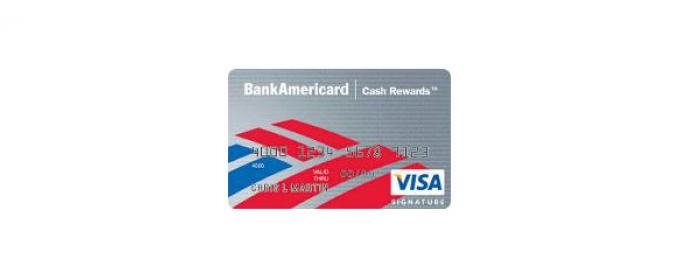 The BankAmericard Cash Rewards™ credit card is another cash back card offering a $100 cash back bonus on qualifying purchases, which according to their site is "at least $500 in purchases within 90 days of account opening". This puts this BankAmericard in line with most $100 cash back credit cards, but it's the one, two and three percent cash back structure each quarter that really sets this card apart from others.
If you haven't seen the commercials for the exceptional new BankAmericard Cash Rewards™ credit card, let's get you up to speed on what this credit card offers...
Get a $100 cash back bonus after qualifying purchase(s)
1% cash back on purchases everywhere, every time
2% on groceries and 3% on gas for the first $1500 in combined gas and grocery purchases each quarter.
Rest easy with Purchase Replacement, which covers purchases that are stolen, damaged or lost within 90 days after purchase.Get a 10% customer bonus when you redeem cash back into a Bank of America® checking or savings account
0% Introductory APR for 12 billing cycles for purchases and for any balance transfers made in the first 60 days, then, the regular APR
No annual fee
No rotating categories and your rewards do not expire
This credit card is reserved for consumers with excellent credit, and rarely do cards combine such a lucrative cash back program with extended 0% intro periods applied to purchases AND balance transfers. Frankly, there's a lot to like about the BankAmericard Cash Rewards™ credit card.