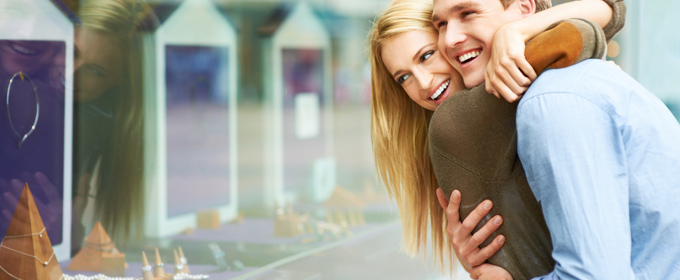 Believe it or not, Valentine's Day is one of the absolute best holidays to redeem your credit card rewards on.
Why? Well for starters, it falls smack dab in the middle of the post-holiday/tax season hangover that is February. What that means is many of us are, well, "tapped-out" when it comes to disposable income. 
And yet, we still want to do something special for our significant other (or maybe even a secret admirer). But with little to go around, some of us go the creative route (we hope you're a good artist) while others decide to make up the difference with our credit cards.
But what if you used the moment to cash in on the rewards and points you earned and saved up for all year long with your credit card? Not only could you organize a special night out with your Valentine, but you could save some serious cash flow while doing so. 
Anyone who owns a cash back credit card knows that most cards give you the option to redeem for just about anything you'd like; romantic getaways, cash, gift cards and more. All of which, conveniently enough, could work out great for your Valentine's holiday.
So if you're still uncertain how to best redeem your credit card rewards for your Valentine's Day evening out, we decided to throw you a bone and give you some gift ideas that are easily redeemable with your standard cash back card.
1.) Restaurant Gift Cards
If you're hoping to dine out on a tight budget, then consider trading in your rewards for a restaurant gift card. A $25 restaurant card might alleviate some or all of the bill on Thursday night, plus you're cooking skills (or lack thereof) can take the night off on what's supposed to be one of the most romantic nights of the year.
A number of popular rewards credit cards - including Discover Cards - offer cash back redemption on restaurant gift cards at Chili's, The Red Lobster, Outback and others. Granted, these aren't the most "luxurious" restaurants of all time, but you can still have a good time in a low-key environment without busting your budget.
And if you had something a little fancier in mind, you can also opt for a general cash back card that allows you to spend your "free money" wherever you like, so that's another solid option, too. 
If you want to take your Valentine out this Thursday for a tasty meal that's light on the wallet, consider cashing in your points or rewards for a restaurant gift card.
2.) Take her to the movies
After dinner, consider taking your Valentine to the local theater to check out a flick. Granted, February isn't known to feature the best movies of the year, but you can probably find something you both agree on - and did we mentioned It's a Good Day to Die Hard comes out that day?
Discover it Cardholders can actually earn 5% cash back on restaurant and movie purchases (up to $1,500), so if you own this card you may want to consider actually saving your points while building up the pot further towards that next special occasion. (St. Patrick's Day, maybe?)
That said, Discover's online marketplace also offers a redemption option for a gift card to AMC movie theaters. So if you're located close to an AMC, consider trading in your cash back rewards for a movie night with your Valentine.
Finally...
3.) Cash in for a romantic getaway
OK - it might be a little late to plan a romantic Valentine's getaway using purely on miles or points. But we can't think of a better way to take advantage of the miles and rewards you earned over the long haul than to use toward a special vacation with your significant other, be it on Valentine's Day or any other day.
If you're a Chase cardholder, odds are you're familiar with the Chase Ultimate Rewards program, considered to be one of the very best online marketplaces for redeeming your miles and points on travel. Chase Sapphire Preferred® cardholders can save 20% on travel when they redeem points for travel-related purchases like flights and hotels, and their introductory sign-up bonus of 40,000 bonus points (equal to $500 in travel) after spending $3,000 in the first three months is one of the best travel-related intro offers on the market today.
American Express is also particularly strong in the travel department, and their Membership Rewards program allots for special vacation packages to some of the most beautiful places in the world.
If a vacation getaway funded primarily by credit card miles or rewards sounds a little far-fetched for Valentine's Day, 2013, it's never too early to get to work on a romantic excursion come February, 2014! Check out our recommended travel rewards credit cards to determine if there's a card right for you.
And no matter what you end up doing this Valentine's Day, don't forget to include chocolates. It's a no-brainer, fellas'.
Disclaimer: This content is not provided or commissioned by the company whose products are featured on this site. Any opinions, analyses, reviews or evaluations provided here are those of the author's alone, and have not been reviewed, approved or otherwise endorsed by the Advertiser. This site may be compensated through the Advertiser's affiliate programs.