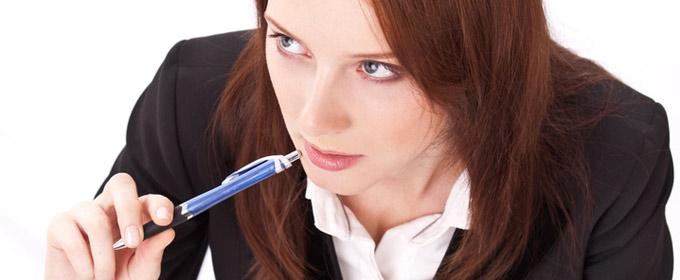 I was on CBS News this morning when an article by Kathy Kristof caught my eye. The subject was "What hurts your credit?" and, as she states right there in the title, "many have no clue."
In the article, Kristof lists off a number of different statistics relating to credit score knowledge, comparing male and female answers throughout. While neither gender came out very favorably, I was shocked by some of the metrics noted and decided to check out the source myself - the VantageScore Credit Quiz.
Turns out, even I got tripped up on some of the questions, and I write about credit scores FOR A LIVING. Sorry for yelling, but this just proves a.) the lack of transparency when it comes to what determines a credit score, really and b.) that we ALL could use a refresher on what does - and doesn't - make up our scores.
First, I'd recommend that you take the quiz now and then come back for some of the results and analysis later. It takes just a couple of minutes, and is actually pretty fun, albeit at a little frustrating. (Anyone else hate when their wrong?)
RELATED BLOG: What Makes Up You FICO Score?
Anyway, here are some of the results I found most surprising, as well as some clarification/analysis on my part.
-Less than 43 percent of consumers knew that an applicant with a good credit score could save more than $5,000 in interest than a consumer with a bad credit score on a $20,000, 60-month auto loan. And that's assuming a bad credit consumer gets approved for the auto loan at all, which is frankly a toss-up when your score is 620 or lower and really comes down to income as a final determinant.
-41 percent were under the assumption that your age was a factor in your credit score. Nope. Credit history yes, age no. A 19-year-old with an auto loan under their belt has more credit than a 30-year-old with no loans. In the case of credit, age really is "just a number".
As a follow-up, a whopping 38 percent answered that all Americans 21 years old and over were most likely to have credit. Again, being older doesn't necessarily mean  having credit. Credit is earned, not handed over just because of age.
-27 percent assumed that a person's marital status affected their credit score. Your marital status might get you tax breaks, but it won't affect your credit score one way or the other unless you and your spouse apply for joint credit cards.
-Many consumers were of the understanding that multiple mortgage or auto loan pulls from a lender would lower their score (37 percent) each time, when in fact multiple pulls made within 1 to 2 weeks won't affect a score each time since it shows that a consumer is shopping for a loan. Less than 1 in 3 of those polled got this right, which is fair since it's not something commonly advertised by lenders.
That said, the same is NOT true when it comes to applying for a credit card. Each time you apply for a card, your credit score will get docked because of the hard pull taken by lenders. Apply for three cards in a week and you'll get docked three times. Remember to note that difference when shopping for a loan, be it auto, mortgage or credit.
To sum it up, a lot of us have a pretty good idea of what does and doesn't affect our score, but just about all of us are unaware of exactly what goes into our score. If you're hoping to build or improve your credit, it's important to get familiar with exactly what goes into your score.
Take the quiz, visit out Learning Center for FAQ's related to credit and, when in doubt, visit our Forum for questions from real, happy-to-help members.