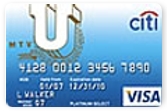 Dear Creditnet: I have nine years of credit-history and while my credit is "good", it's not "excellent". I'm currently interested in applying for a top-notch rewards credit card, but my chances of getting approved seem to be much higher if I apply for the student version of the card. So my question is will a student credit card have the same effect as a regular credit card on my credit score? And what about rebuilding my credit-history? Will a student credit card help improve my credit just as much as any other credit card?
Answer: Why are you concerned about rebuilding your credit if you already have a "good" score? If your FICO credit scores are above 720, I doubt you'll have any problem getting approved for the non-student version of the rewards card you're interested in. Regardless, student credit cards will have the exact same effect on your credit score as any other credit card.  
In fact, your credit reports should only show the name of your credit issuer (eg. Citibank, Capital One, Discover). So, to a credit-scoring model that's basically just reading data from your credit reports, a student credit card will look like any other regular credit card. There's really no way for the model to tell the difference. What's more important is that you manage the new account wisely and always pay your monthly bills on time and in full.
As long as you manage your new credit card responsibly, your scores will continue to improve over time. If you'd like to compare more of the best student credit cards available on the market, take a look at our reviews in the Student Credit Card section and apply securely online.