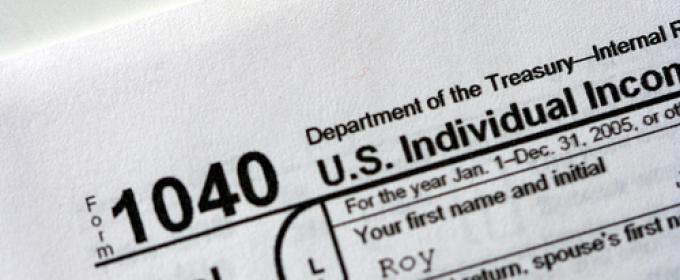 Do you have a friend who always brags about how big he expects his tax refund to be and what he plans to spend it on? I do.

Every year I bite my tongue as I listen to him go on and on about the huge check he'll be getting from Uncle Sam and how he's already spent the money on a new toy of some sort. I just have to nod my head and say, "Great man, great. I'm really happy for you."
Why Tax Refunds Are Nothing to Brag About
All I can think about when I'm doing my taxes is how I'd much rather have a tax bill to pay in April than receive a refund. Why? Because a tax refund simply means I leant my money like a sucker to the government over the previous year for jack squat in return. And I don't like that one bit.
In addition, have you ever thought about the credit card points or miles you could rack up when paying your tax bill with a
rewards credit card
? Yes, that's right. The IRS does accept credit cards as a form of payment these days, although you will have to fork over a processing fee of at least 1.87% to pay with plastic.
As tax day quickly approaches this year, a lot of personal finance experts out there will be telling you that it NEVER EVER makes sense to pay taxes with a credit card. And they are certainly right, if you don't plan on paying off the entire balance by your due date. Most credit card interest rates are pretty ridiculous.
But aren't there opportunities out there to earn credit card rewards worth a lot more than the 1.87% fee you will pay to use your card? And if so, why not take advantage of them and then pay your credit card off in full by the due date? If you ignore these opportunities and just cut a check from your bank account, you're essentially taking a pass on free money.
Charge Taxes and Earn Sign-Up Bonuses Worth Hundreds
Let's say you owe a $5,000 tax bill. At 1.87%, you would need to pay a processing fee of $93.50 to charge your tax bill on your credit card. Now, imagine you had just applied for the new
Barclaycard Arrival Plus® World Elite Mastercard®
, which offers a 70,000 mile sign-up bonus after spending $5,000 during the first 90 days and paying the annual fee plus 2 miles per dollar spent.
A $5,000 spend during 90 days is tough for many people to meet based on their normal average monthly spend, but you could wipe out the entire minimum spend by simply paying your tax bill with the new card. In return, you would receive a total of 70,000 points, which would be worth a $700 travel statement credit.
Would you pay $93.50 to receive $700 in return? Of course!
So, if you've played your cards right this year and are expecting to owe Uncle Sam a bit of money on tax day, don't forget to consider if it might be worth paying with a credit card instead of whipping out the old pen and checkbook. Paying taxes is never fun, but it can be a little less painful if it means a free flight to Hawaii for your next vacation.