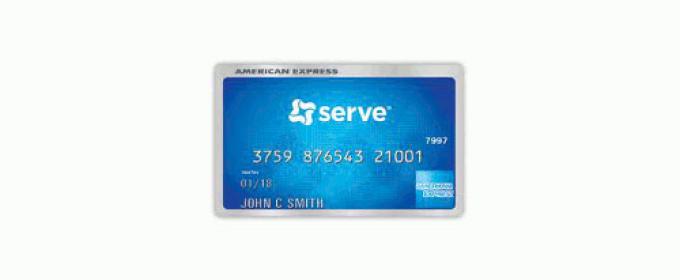 Update: This credit card has changed since this article was published. You can check out the most up-to-date details on this card here: American Express Serve®.
On its surface, American Express Serve® looks like a prepaid card - albeit a great one. You load money on to it, you use it to make purchases, and you keep it in your wallet. 
Pretty standard, right?
Actually, no. American Express Serve® is a whole different animal when it comes to prepaid cards - a market that's rapidly growing, by the way - and is actually moving prepaid accounts into the next generation of purchasing technology.
Alright, so what makes American Express Serve® so different from its competitors? 
American Express Serve® first impresses with its lack of fees, a negative commonly associated with prepaid debit cards. There are no monthly fees, no annual fees and adding money to your account is free in most cases. Members are also privy to the same perks as American Express credit cardholders, including roadside assistance, purchase protection, Global Assist® and exclusive entertainment access. 
Admittedly, these are all excellent perks, but they aren't what make American Express Serve® the prepaid game-changer it's being hailed as.
It's actually the way in which members of Serve® can access, transfer and move their money that put it head and shoulders ahead of the pack when it comes to prepaid services.
American Express Serve® is actually more like a prepaid account that just happens to have a card attached to it. Account members can use their online account to transfer money by email, text message and even Facebook. Your account is easily available via the American Express Serve® app on your smartphone, and you can link up you bank account or a debit card from other card issuers. 
You can hit up friends for old debts that haven't been paid and include a message, or you can use your account to raise money for a good cause, or even just a party or get-together. Broadcast goals and contact your friends via Facebook and email to get them to join your cause, and use your American Express Serve® account to even sell your goods online!
So, if you're keeping track, this prepaid card combines the social networking of Facebook, the money-raising abilities of Kickstarter and an online marketplace similar to eBay and Amazon. Oh, and it's also a prepaid card that's low on fees and makes online banking simple.
Yeah, American Express Serve® is pretty rad.
This card actually launched in 2011, but it's really taken off over the last few months as one of the best new ways to track your finances. And in an age of bill-splitting, online media fundraising and online bidding, there are dozens of ways in which consumers can use their American Express Serve® account.
Like what you see? Sign up for your American Express Serve® account today for free!
This content is not provided or commissioned by the company whose products are featured on this site. Any opinions, analyses, reviews or evaluations provided here are those of the author's alone, and have not been reviewed, approved or otherwise endorsed by the Advertiser. This site may be compensated through the Advertiser's affiliate programs.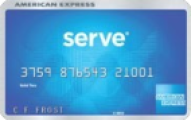 Apply for American Express Serve®
American Express Serve® takes prepaid purchases to a whole new level. Modern banking meets prepaid spending with this excellent prepaid card from AmEx.