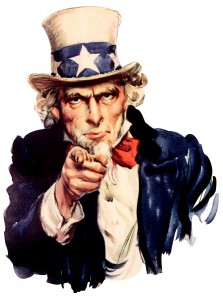 If you haven't heard yet, your fellow Americans in the District of Columbia celebrated a holiday on April 15th.  Emancipation Day, which marks the day President Lincoln signed a law in 1862 that freed over 3,000 slaves in D.C., is usually observed on April 16th but was moved to the 15th this year so it wouldn't fall on a weekend.
By law, local holidays in D.C. affect tax deadlines the same way federal holidays do.  So this means that your federal income taxes aren't due until today, April 18th.  You got an entire extra weekend to pay the tax man! I hope you took advantage of it.
But what if you still haven't gotten your act together in time to file your income tax return?  No need to worry, because you always have the option to file an extension and get a reprieve until October.
It's as easy as filling out IRS Form 4868 and submitting it today before midnight.  You can either send it by snail mail or step into the twentieth century and e-file.  Approval is automatic, and the IRS will happily give you about 6 more months to complete your returns.  However, that doesn't mean they don't want your money today.
If you happen to owe Uncle Sam some moolah and fail to pay it by April 18th, you can expect to get hit with penalties and interest on the unpaid balance.  And if there's anything worse than paying taxes, it's paying unnecessary penalties and fees in addition to what you owe.
To avoid this rather unfortunate situation, you'll need to include a check estimating how much you owe along with your Form 4868.  You may want to be conservative here and overestimate a bit, just to make sure you don't run into any issues.  Then kick back and procrastinate some more until mid-October...Happy Tax Day!