Ever wonder why bad credit credit cards are advertised so often as credit-builders for people with poor credit? Seriously, how can adding a new card help you improve your credit score?
Well, there are two types of credit cards for bad credit - secured and unsecured. Both of these cards have their advantages and disadvantages and while we generally recommend taking the secured credit card path (see below), we understand that they're not for everyone.
So if you're still uneasy about adding a new bad credit card to your wallet, or unclear on how such a card can improve your score, check out our helpful infographic below explaining how bad credit credit cards can boost your score with regular, responsible usage.
(Click Image to Enlarge)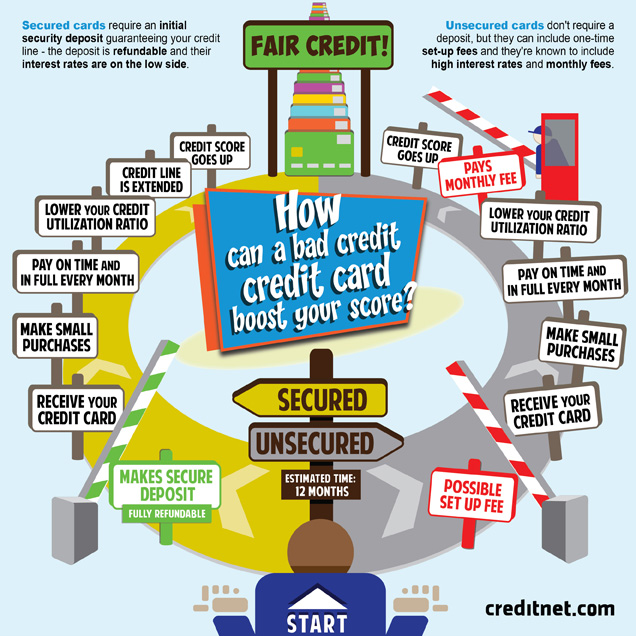 Embed this Infographic

Best Secured Card for Building Credit - First Progress Platinum Prestige Secured MasterCard®
Few secured credit cards include a lower ongoing APR than the one offered by this card from First Progress. The go-to APR starts at 11.99 percent and the annual fee is a modest $44. This card reports to all 3 major credit bureaus, and requires a fully refundable deposit starting at $300 upon sign-up. Get the dull details when you click the "Apply" button to the left.
Best Unsecured Card for Bad Credit - VISA® Platinum from Credit One Bank®
For unsecured bad credit options, consumers whose credit is sub-620 won't do better than this option from Credit One. The variable APR starts from 23.9 percent, there's an annual fee of $75 the first year (it's $99 thereafter) and there's no monthly or setup fee, compared to similar bad credit unsecured options. Read the complete terms and conditions when you apply using the button to the left.