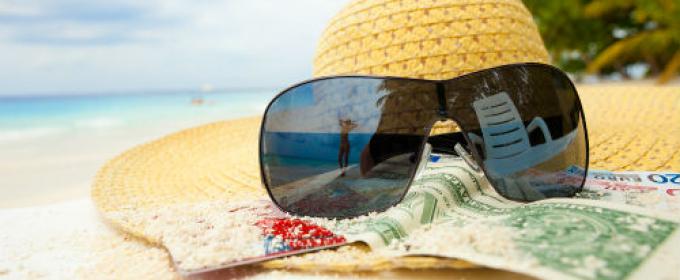 Summer is a time for fun in the sun and a carefree lifestyle. Make sure you budget for all your activities and trips in advance to ensure you get the best deals and save plenty of money this summer. The following tips should help you in your quest to enjoy the longer days and warmer nights without breaking the bank.
Vacation Savings
Getting out of town is almost essential in the summertime. Get the whole family away for a few days—or even a week—with a few tips that will ensure you don't sacrifice fun for a budget experience.
One of the best ways to save money on a vacation or trip is to stay at a hotel or motel where kids eat free. Plenty of chains have been offering these savings, so their competitors have been jumping on the bandwagon as well in order to keep customers flowing through the doors. Most deals offer a free meal for one child with every paid adult, so make sure to keep your numbers even to get the best discounts.
Snag amazing deals through vacation deal sites. Websites like Travelocity, Kayak, Expedia and Priceline can save you money by offering deals not published through an airline or hotel website. Just make sure to check the airline or hotel website before making your purchase through the deal site. Sometimes a hotel or airline can actually offer a lower fare than the deal sites.
To get the best deals you might need to plan ahead a few weeks. Check out prices a few weeks to a month in advance and price out the best option. Being flexible can also help; some deals are offered during the week, so if you can take time off work or work non-traditional hours try to book one of those deals.
Sometimes the best deals aren't necessarily available months ahead; they're available at the last minute. Certain hotels and airlines will offer 24-hour or 48-hour sales for airfare that are only available for a certain last-minute time period. Keeping an eye out for one of these deals can save you hundreds of dollars.
Cutting down on vacation expenses can keep your expenses low too. Camping or do-it-yourself trips are a great way to cut down on expenses and have a great time on vacation. Since camping trips cost very little upfront (the campground fee, gas to get to the campground, food and equipment), camping can be an extremely cheap way to enjoy vacation without breaking the bank. Do-it-yourself vacations or staycations are when you decide to be a tourist in your own town. Take a free walking tour of your city. Take a ferry ride to a nearby island. Visit an art museum, or see a local play.
The best way to save money for a vacation is to plan for one. Open a vacation savings account, and start depositing money into your account several months before your trip. You can even use budgeting software or Microsoft Excel to keep your budget on track and make sure you're saving enough each month for your trip.
Related Article: Weekly Tip: Buy your plane ticket early, but not too early.
Activity Discounts
Keep the kids happy all summer long by snagging activity discounts for your summer vacation. Scour daily deals websites to find discounts on water parks, outdoor activities, sports and restaurants. Big box stores like Costco also offer great discounts on local parks and services. You can usually find gift cards for your local water and amusement parks at 10-25 percent off the ticket price. Costco also offers movie theater tickets at deep discounts too. When you're ready to get out of the sun, get the whole family into the movies to cool down.
Local bowling alleys and museums offer free kids deal days. When an adult purchases one adult fare, a child fare is often offered free of charge. Since these offers are geared to kids, you can count on plenty of kids at the venue on that date and time.
Home Repairs
Summer is a great time to get your home repair list checked off. The temperature is mild enough for plenty of work outside. Get great discounts on your home repair needs by taking care of fixer-upper projects yourself. Head to a bargain department store like Walmart to get great deals on home repair and maintenance products. Use YouTube to find do-it-yourself videos to help you get the job done. Though doing it yourself can save you money, if your home has a project you can't wrap your brain around, call in a professional. You'll save more money in the long run than you would paying to fix your own mistakes.
Department stores like Ikea often feature holiday sales for the Fourth of July and Labor Day, so check sale circulars on these days to see if the hutch you've been eyeing is going on sale.
Energy Costs
Summer energy costs can skyrocket in the summertime. Air conditioning and cooling costs can make your electricity bill double and even triple. Save money by turning off air conditioning units when you're not at home and turning your unit to the energy save modes whenever possible. You might even qualify for a tax break by choosing an energy saving air conditioner. Make a deal with yourself that you'll only use your air conditioner when the temperature hits a certain degree, and only turn on the air in the rooms you're actively using.
Related Article: Where Does Your Money Go?
Food and Party Planning
Most people enjoy a little time outdoors with friends in the summer. This may mean heading to a local park or grilling in your own backyard. Save money on your summer fete by hosting a potluck party at your house. This way your guests can chip in and bring a few dishes or side dishes ensuring the bulk of the financial responsibility of food won't be left on your shoulders. Tell guests your party will be BYOB, so you're not stuck with the alcohol bill either.
If you don't want to ask people to bring food, you can still save money by keeping your party self-catered. Make a grocery list for all the items you'll need to throw an awesome party that's also inexpensive. Pasta and potato salads are inexpensive side dishes. You can find budget bulk meat at Costco or your local grocery store to throw on the grill.
Summer fun doesn't need to mean blowing your budget. By finding inexpensive activities and money saving deals, you can still enjoy all that the season has to offer without killing your finances for the rest of the year.