I blogged about the Discover More Card - $0 Balance Transfer Fee deal when it was first launched just after the new year. At the time, Discover wouldn't say anything more about how long the deal would last other than it was a "limited-time offer". What credit card offer isn't, right?
Since we couldn't get any specific dates out of them, we assumed that the no balance transfer fee deal might only last through the month of January.
However, now we've received confirmation from Discover that the offer, which features 0% interest for 12 months and no balance transfer fee, has been extended through the entire month of February. So, if you've been procrastinating the transfer of your high-interest credit card debt to a 0% interest credit card, the good news is you've still got some time to take advantage of this great deal from Discover. The bad news is you're still paying high interest on your old credit card debt if you haven't taken advantage of it yet, so stop procrastinating! I've received several emails from readers asking what the catch is with this card. There is no catch folks. It really is a completely free 0% interest loan for 12 months. It's as good as it gets when you compare balance transfer credit cards.
The only thing you have to do is make sure you pay your balance off in its entirety before the 0% promotion ends, as you would with any 0% interest deal. Keep in mind that the Discover More Card - $0 Balance Transfer Fee is for those with excellent credit. If your FICO scores aren't at least in the mid-700s, I wouldn't count on an approval.
To read more details on the pros and cons of this credit card offer, check out my original post from January 3rd, 2012: "Discover More Card Launches No Balance Transfer Fee Deal". (NOTE: This offer is no longer available. 6/3/2013)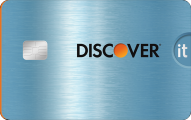 Discover it™ - 18 Month Balance Transfer
The More Card from Discover is no longer available, but the Discover it™ - 18 Month Balance Transfer is! Check out this upgraded version of one of our favorite balance transfer cards when you click the "Apply Now" button.