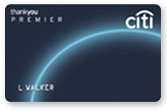 A few years ago I wrote about how the Citi PremierPass Elite card makes me smile every time I use it. Well, unfortunately I was forced to stop using it since my beloved card no longer exists.  It must have been too good because Citi scrapped it! However, I am happy to report that Citibank recently replaced my card with one that still makes me smile for many reasons.  So here's why the Citi ThankYou Premier Card remains a top choice in my wallet:
1.) I'll still earn 1 point for every mile I fly on any airline. Of course, this is in addition to the points I earn per dollar spent. What other card allows you to rack up points for the miles you fly on any airline plus what you spend?
2.) There are no foreign transaction fees. This is a new benefit, and it's one that I love!
3.) I'll earn an anniversary bonus (Up to a max of 5%) for each additional year I hold onto the card.  This is also a new benefit.
4.) There's no limit on the points I can earn and they never expire 5.) I'll continue to save 25% when I book my airfare through the Citi ThankYou Center For those that are skeptical of booking flights through the Citi ThankYou Center, let me quickly relay my experience redeeming points this month for a family vacation. The cheapest tickets my wife and I could find anywhere online for the flights we wanted were about $1,200 each. However, we were able to find the same tickets through the Citi ThankYou Center and only had to redeem about 120,000 points to book both flights.
Do the math my friends. We only had to use $1,200 worth of points for $2,400 in tickets. Not a bad deal at all!  That's why I love travel rewards credit cards. I can't say I like the fact that Citi increased the annual fee to $125, but luckily I'm grandfathered into the old $75 annual fee. Even if I wasn't, I still think the $125 fee would be worth it for me. Plus, the annual fee is waived for the first year if you're a new cardholder, so why not give it a try for yourself?  Then let me know what you think.  If you fly a lot, especially overseas, I expect the Citi Thank You Premier Card will make you smile too.