(Update: This offer is no longer available.) I love free money, even if it is just 10 bucks. If you love free money too, and you're willing to spend a few minutes jumping through some hoops this weekend, there's still time to take advantage of this promotion from Amex and score yourself a complimentary $10 gift card. Here's what you'll need to do in 3 easy steps:
Sign up for a new AMEX Prepaid Card (It's free to sign-up and load the card)
Load it with $50 when you order
Wait 6 weeks to receive your $10 gift card from AMEX
The promotion ends July 31st, so you have until 11:59 ET next Tuesday to order your card. Worried about hurting your credit? Applying for a prepaid card will not affect your credit in any way, so there's no reason to worry about that. In addition, unlike most prepaid cards out there, the Amex Prepaid Card has just one fee you should be aware of. After your first ATM withdrawal each month, it'll cost you $2 for each additional ATM withdrawal. That's it. Pretty simple. And it won't cost you a dime to just leave it in your wallet after scoring your free $10, so there's essentially no risk in enjoying this little perk. Check out Amex's website for all the details, and have a great weekend!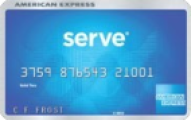 Check out the NEW Serve® from American Express
Serve® from American Express is a prepaid game-changers; no monthly fees, no annual fees and money transfers via email, text message and Facebook. Get the full details on Serve® from American Express.