Update: This offer is no longer available. Check out the Chase Credit Cards page to view Chase cards that are currently available.
Chase unveiled the newest United MileagePlus Explorer Card late last year, but we thought it was worth taking a closer look at one of the very best airline miles credit cards available on the market today.
Here's the VIP perks cardholders can take advantage of, plus some of the other highlights of the Chase United MileagePlus Explorer Card...
There are two kinds of airline miles credit cards: one type of card offers general travel rewards and more flexible flight options, while the other is a co-branded airline credit card that rewards frequent fliers for their loyalty. The Chase United MileagePlus Exlporer Card falls in the latter category, and it's one of the better airline credit cards available today.
The first thing we like about this credit card is the bonus miles offer. Cardholders that spend $1,000 in the first three months will earn 30,000 bonus miles, so members looking to accrue miles quickly can jump to a quick start by reaching that (pretty reasonable) spending threshold. That said, co-branded airline cards want to reward cardholders most for their long-term loyalty, so this Chase card offers up some other solid perks well after its bonus period has ended.
For instance, cardholders earn priority boarding privileges on all United Airlines flights. Plus, they'll let you check your first bag each way - a $100 value if you're flying roundtrip. Members receive double-points on all United ticket purchases, plus 1 mile per $1 spent on all other purchases made with your card. And finally, one more incentive for consumers considering this travel rewards card is that the $95 annual fee is waived for the first year as an introductory offer from Chase.
So how do you net the most rewards with the Chase United MileagePlus Explorer Card? Here's how it's done: 
Spend $1,000 in your first three months to earn those 30,000 bonus miles.
Add a second authorized user within the first three months of the account opening to net another 5,000 bonus miles.; maybe you and your spouse can work together to accumulate miles in an effort to book a vacation getaway somewhere down the line. Aloha!
Be sure to purchase all United tickets with your MileagePlus Explorer Card to take advantage of double miles; a $500 flight purchase equals 1,000 miles.
If you make the bulk of your purchases over the course of a year with your United card ($25,000 or more), you can earn an additional 10,000 bonus miles.
So in your first year as a cardholder, you can earn as many as 45,000 bonus miles with this travel rewards card. OK, so you now how to net the points, but maybe you're not sold on the idea of a single airline-branded credit card.
We really like both kinds of miles credit cards; the flexibility of a general miles card is an excellent perk, but the VIP privileges you can earn with a co-branded credit card are nice, too. If you find yourself flying with the same airline again and again (in this case, United Airlines), it makes a lot of sense to go the co-branded card route because of the specials and privileges afforded to you; skip-the-line boarding privileges, hotel room upgrades and discounts and baggage discounts are all available with the Chase United MileagePlus Explorer Card.
To sum it up, this is one of the best co-branded airline miles credit cards available because of the bonus points available in the first year as a cardholder. That said, the long-term perks on this credit card are solid and especially useful for frequent fliers. If you want to earn VIP status with United Airlines, then this is one of the best travel credit cards to apply for.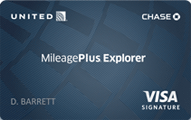 Apply for the Chase United MileagePlus® Explorer Card
<p>The Chase United MileagePlus Explorer Card is our recommended airline miles credit card. Check out the full details when you click the "Apply Now", including terms &amp; conditions.</p>