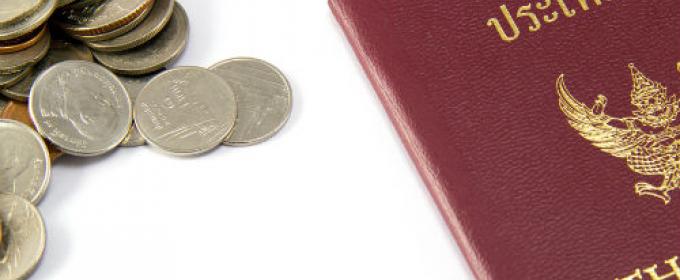 Students can truly benefit from studying abroad. With our globalized society providing jobs all around the world, students who immerse themselves in other cultures will have the upper hand. Students can expect to get practical knowledge and understanding while having the time of their lives. That being said, studying abroad is not cheap. There are a number of different costs associated with the experience, requiring a lot of strategic budgeting to succeed. Potential students need to figure out if they are financially capable of having this experience and how they will handle their money during their stay.
Upfront Costs
The cost of studying abroad varies tremendously on the educational establishment and country the student will be going to. While many traditional universities offer international study programs, their tuition costs don't cover everything. One of the biggest deterrents to international study is the upfront costs of leaving the country and preparing themselves for their stay. Students need to plan their finances accordingly to cover the following expenses:
-Round Trip Traveling
-Room and Board
-Tuition Fees
-Books and Supplies
-Insurance
These are all important expenses that need to be covered long before the student even leaves. The expenses can quickly add up, costing thousands of dollars. Planning ahead can save a lot of headaches, but that isn't the only thing students need to plan for. 
Living Expenses
One of the biggest issues students face while abroad is managing their living expenses. With international currency fluctuating daily, it can be difficult for students to manage their money. Not only that, but spending money from a domestic bank while overseas can be quite costly. Without proper budgeting, the money will be drained before the student even realizes. Students need to understand their options and what they are actually spending to properly budget their funds.
Getting Cash
Having cash is imperative when traveling to a foreign country. There are many businesses that don't accept cards. Not only that, but domestic card strips are notorious for having issues in foreign card machines. Students can get cash at a number of different locations. 
Before departure, students can get cash from their local bank. They often require a few weeks to get the currency, but it'll ensure the student has cash upon landing. They can also obtain foreign currency at airports. Many businesses will exchange currency for a fee. The fees vary depending on the exchange rate and business, but they are almost always high. Students will lose money in the exchange, so it's recommended to do large sums of money at a time.
Using Debit
Using a debit card is the most efficient way of handling money in a foreign country, but it can be one of the most costly. Most banks will charge hefty foreign transaction fees. These fees are charged with every purchase that is made. They can range from 1%-3% depending on the bank. Students will pay a significant amount of money more than they have to. The amount of foreign transaction fees will add up quickly. Students who choose this route should include the fees into their budget to avoid being broke.
Students also need to take a number of different precautions before using their card overseas. Before departure, students need to inform their bank of their travel plans. Banks need to know when they leave and how long they will be there. This is to avoid card rejection. Many banks will block the card if they see that it is being used in a foreign country. Letting them know beforehand avoids this huge headache. Additionally, students need to prepare for the possibility that their card will not work overseas. While most cards will work internationally, some countries won't accept the card due to the magnetic strips. Many countries have moved away from the strip and implement a chip into their cards. This is known as a "smart card." Many banks offer these cards for international travelers, so students need to plan ahead.
International Credit Cards
An international credit card is the best option for students studying abroad. It gives them the flexibility they need without having to worry about extra fees and going beyond their budget. These cards do not have foreign transaction fees, allowing students to pay for what they are buying and nothing more. 
In addition to zero foreign transaction fees on purchases, these cards have no fees for cash withdrawal. Students can use a foreign ATM and get a cash advance to ensure that they are prepared for anything. They'll have complete control of their expenses, leaving them to enjoy the experience.
There are a number of different credit card companies that offer international cards with zero foreign transaction fees. In fact, there are a few cards that are tailor made for students studying abroad with manageable interest rates. It's a great option for students who want to build their credit and prepare themselves for a financially successful future. Some even offer cash back benefits and rewards, giving them an added perk with each purchase. These credit cards give students the tools to successfully budget their money accordingly.

In Conclusion
All in all, students have a lot of financial preparation before and during their study abroad. With all the excitement of a new culture surrounding them, students will be rewarded with broadened horizons and academic enlightenment. It's important to make the most out the experience. To do that, students must learn excellent budgeting and money management. With that in tow, students don't have to worry about money and can focus on the experience before them.