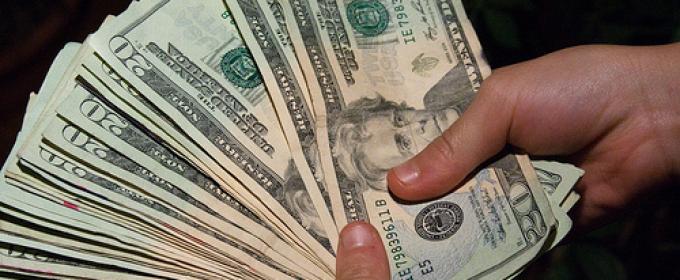 Running a little short this month? It happens to all of us at one time or another. But, before you reach for your plastic, you might want to check out one of these 13 ways to raise some quick cash.
1.) Does anyone owe you money? It might be time to try to collect the money that you lent your cousin last fall. Even if you don't collect it's good to remind them about the debt.
2.) Are you owed unclaimed funds? You'd be surprised how many utility deposits and bank accounts go unclaimed. States collect the money and keep it for the rightful owner. That could be you! Check it out at Unclaimed.org.
3.) What are you an expert in? Let your friends, neighbors and co-workers know that you can be hired to use those skills or to teach them.
4.) Can you fill-in? Many businesses need temporary help during busy seasons or when employees are taking vacations or are on sick/maternity leave. A temporary fill-in job could provide some quick cash.
5.) Can you become a creative cook? You probably have food items in your cupboards that have been sitting there for ages. Why wait for them to go bad? See how many days you can feed yourself with what's already in the house. Then, for those items that still remain, search the net for recipes that will consume them.
6.) Do you have anything worth selling on eBay? Especially something that's collectible? Think hard. It could be buried in the back of a closet and you haven't seen it in years.
7.) Do you have clutter you can sell? Old kids' toys, clothing (both adult & children's - especially designer labels), kitchen appliances. Put the better stuff on an online auction and garage sale the rest.
8.) Let people living near you know that you're willing to do odd jobs. Especially older people who may have trouble with ladders or strength.
9.) Look for research opportunities. Consumers who become part of focus groups or take surveys are often compensated. Some are even found online. Compensation varies. So ask before you sign up for the research.
10.) Do you have mortgage or credit card insurance? Call and find out if you can cancel it. Regular life insurance is much, much cheaper.
11.) If you're a sports nut, you could be the perfect candidate to umpire or referee local sports leagues. Check with your local parks department. You could get paid for having fun!
12.) A paper route in the morning could earn you up to $1,000 a month. Plus you can do it early before your regular job. 
13.) Do you love pets? Let it be known that you're willing to take care of pets while their families are away. Check with local kennels to see what you can charge.
So if you're a little short on cash, don't despair! Use one or more of these tools to raise some quick cash!
Gary Foreman is a former financial planner who founded The Dollar Stretcher.com website and newsletters. The site features thousands of articles on how to save your valuable time and money including an article on raising instant cash.

Like cash back? Check out Discover it™
Then again, if you want to earn cash back via credit card purchases, consider applying for Discover it™ to earn 5 percent cash back on up to $1,500 in rotating categories that change each quarter. Earn one percent cash back on all other purchases, and pay no annual fee or foreign transaction fees. Get the full details when click on the "Apply" button to the left.