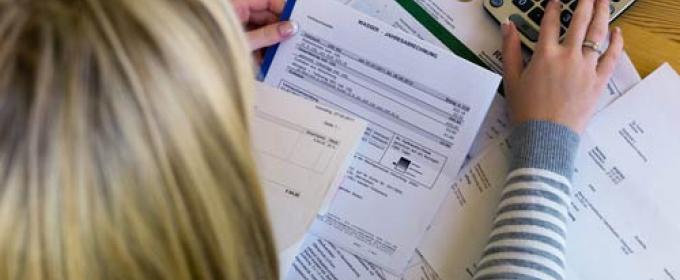 Technology has now made bill paying much quicker than the payment methods of the past that relied on bank slips and paper checks. Online banking has gone mobile, allowing consumers to submit and automate payments with smartphone applications that have all the functionality of a desktop-based banking website. With more bill-paying choices, many individuals wonder about the best way to pay bills while safeguarding their personal information and avoiding late payments. The answer often depends on whether convenience or control are higher priorities. 
Automating Payments 
Setting up automatic payments is a common practice with both credit cards and regular monthly bills for mortgage payments, car notes, utilities and other goods or services. Individuals who have consistent funds in their checking or savings accounts can benefit the most from automatic payments deducted on the same date each month. For automating credit card payments, it's a good idea to schedule the payments at least two to three business days before the due date. Depending on different banks' policies, some online payments may take time for the funds to transfer. Allowing this grace period is a safeguard strategy against possible late payments. 
Online banking platforms are relatively user-friendly and allow customers to edit their selected payment dates whenever they need to do so. With credit card payments, individuals can select the amount of each monthly payment as well. Paying a fixed amount over the minimum each month is one of the most recommended ways to avoid interest charges. With other types of bills, checking the monthly charges online against a paper bill is a good way to avoid overpaying or underpaying by accident. 
Using Mobile Check Deposit Apps
Banking customers can now deposit paper checks by snapping a smartphone or tablet picture of it and sending it through a banking app. The technology that makes this possible is called optical character recognition. Once the check transfer is complete, the account holder can designate funds to be automatically paid towards an existing credit card balance. Using one of these mobile banking apps is one of the most automatic payment methods, and it's one of the most convenient for busy professionals. Before choosing one of these banking apps for bill payments, consumers are reminded to check that the app is secure and from a reputable source. 
Managing Credit Card Payments 
Online banking is now one of the preferred methods for paying bills because of the quick turnaround times. Funds paid on a business day typically clear within 24 hours, which is a noticeable difference from mailing paper checks to another location through the postal service. Those payment methods still usually take five to seven business days for the creditor to deposit the funds. Some individuals have the practice of sending a check in the mail before the funds are available in their checking accounts. While this payment option may be convenient in some instances, it does carry the risk of a check returned for insufficient funds. With online banking tools, account holders can more easily control when available funds are debited from their checking accounts. 
The best way to pay bills is electronically with one of several different options, including mobile payment apps and online banking websites. Tools available with these applications or sites can include:
- Photo-based check deposits
- Automated bill payments
- Options to select amounts to be paid
- Credit card management settings
- Importing of invoices from external creditors
This technology has made money management faster and more convenient, but the control still ultimately rests with the account holder. Budgeting enough money for all monthly charges and paying credit card balances above the minimum payment are still the most practical ways of managing personal finances. Getting set up with online automated payments does not require extensive technical knowledge, and bank branch staff can often help new account holders get set up with online bill payment. Using automated payment tools the right way will help individuals build good credit, take full advantage of credit card reward programs and budget for all monthly expenses.