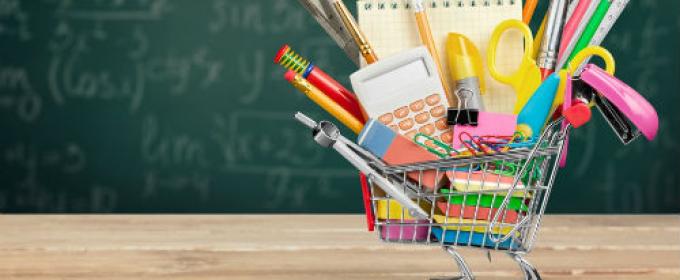 Anyone who has ever stepped foot inside a department store between the end of August and the beginning of September can describe how hectic back to school shopping can be. According to the National Retail Federation, back to school shopping is one of the biggest retail seasons of the year as Americans are expected to spend nearly $70 billion on shopping for students from kindergarten to college in 2015. Between school supplies, electronics, dorm preparations, and new clothes, parents are spending ever-increasing amounts of money to make sure that their kids are getting back to class with the things they need.
Fortunately, there's a great way to save money while back-to-school shopping: put it on a credit card. Although credit cards may usually get a bad rap due to their association with increasing debt, the Consumer Financial Protection Bureau has pointed out that Americans are actually becoming more responsible with credit since the Great Recession. In fact, the careful and smart use of credit cards can actually save money while giving cardholders flexibility to buy the things they need when they need them. In order to save the most during this year's back to school shopping, check out the following tips that can help turn a credit card into a great way to save money.
Take Advantage of Rewards and Cash Back
Modern credit card reward programs are some of the best ways to save money year round, not just during the back-to-school season. Using a credit card that has a cash back or rewards rate of over 2% is most beneficial when making essential purchases of larger items such as computers or tablets, but it can also be useful when buying less expensive supplies. Some credit cards even let cardholders apply their rewards points to their running balance, essentially giving a discount on all credit card purchases, not just ones that qualify. In addition, many credit cards also offer special cardholder deals and discounts when shopping with specific retailers. Take advantage of these deals by planning out shopping trips ahead of time so you get the most discounts and rewards for your buck.
Check out Sign Up Bonuses
Sign-up bonuses are a great way to maximize money when spending large amounts at one time. These bonuses vary from company to company but they often resemble offers for $100 cash back when spending over a certain amount (usually $500) during the first few months that the card is open. With most families expecting to spend over $600 on each child during back to school this year, a good sign up bonus can save a relatively large chunk of cash. In order to make the most of these bonuses, use them in conjunction with a good cash back or rewards program.
Related Article: Are You Really Getting All Those Bonus Points?
Pay Attention to Price Protection
Almost everyone has dealt with the frustration of making a purchase only to find it on sale a few days later. Luckily, many credit cards provide a little-known service called price protection, a feature that allows cardholders to get a partial refund if an item bought with the card drops in price within a certain amount of time (usually 30-60 days). With price protection you can focus more on getting the things that your family needs without having to worry about getting the absolute lowest price. While some credit card companies require you to go through a fairly lengthy process to get your refund, some are making the process extremely easy by notifying customers when they're eligible for a price protection refund. Taking the time to find the best deal is always the best advice but a great price protection program can help make sure that you get the best deal possible.
Look Out for 0% APR
Back to school shopping can involve spending a lot of money at once and that can be a problem for the average American. If you're low on funds but still need to get ready for school, signing up for a card with an introductory 0% APR offer may be a good alternative. By putting new purchases on a card with 0% APR, you can take time to save up money to pay off your balance without having to deal with frustrating interest rates. Just make sure that you manage to pay off your balance before the end of the promotional period because having to pay interest means that you're not saving money. As a general rule, most credit cards that offer 0% APR limit the rate to purchases made within the first 6 or 12 months.
Remember Extended Warranties
For those who are used to buying electronics, you may be accustomed to the extended warranties that many stores try to sell with their products. While these store-specific warranties are usually expensive and limited in what they cover, many credit card providers actually provide a free extended warranty for electronics purchases. All of the major providers (Visa, MasterCard, American Express, and Discover) offer extended warranties with certain cards and this feature can be helpful if a device doesn't work as planned. Because of this, it's safer to buy certain items, such as computers or televisions, with a credit card instead of cash just to make sure that you get the best warranty and protection possible. One word of advice: even if your card offers extended warranties, make sure to hold on to your receipt -- it'll make the process much easier.
Related Article: How Big is Your Emergency Fund?
Be Careful With Store Specific Cards
Although many stores may advertise some great deals with retailer-specific credit cards, it's important to read the fine print. These discounts often look and sound great (many offer 20% off if you apply for a credit card in-store), but be aware that these store-specific cards often come with high interest rates and low credit limits. Unfortunately, high credit utilization can quickly lead to lower credit scores, so these cards are best used in specific situation. Retailer-specific cards can save money but only when their balances are paid off, so make sure to exercise caution when asked to sign up at the cash register.