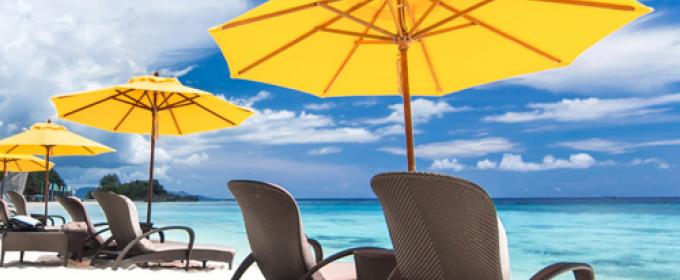 Summer break is getting close, and that means sunny skies and long, beautiful days. For many people, this is the perfect time to travel. But with high gas prices and expensive costs, a lot of consumers end up spending an arm and a leg on their summer travels. This doesn't have to be you though. For those of you thinking about taking a trip this summer, there are easy ways to save, while still having an epic vacation.
So what should you do to save?
The most important thing is timing. If you haven't already booked your summer travels, now is the time to do it. Flight tickets and hotel prices will only continue to go up as it gets into the summer months. In addition, if your travel dates are flexible, try traveling in the week as opposed to a weekend. Hotel prices can be much lower on weekdays, and the best days to fly are typically Tuesdays, Wednesdays, and Saturdays. There will be less people as well, so you won't have to deal with crowds.
Compare your options. This is incredibly important, especially if you are planning a faraway destination. Take a look at travel sites like Kayak and Expedia, and also check individual airlines to make sure you include all possibilities in your search. Services like Groupon and Living Social also offer various trip deals, including hotel plus flight deals and all-inclusive stays. By searching for deals online, you can easily save money on flight and hotel costs. And the deals don't have to end once you get your tickets booked. Once you are at your destination, you can continue to look for discounts and deals. Check out Yelp before you eat out to find the best restaurants in your price range. Look for discounted tours and tickets. Some museums offer cheaper tickets on certain days. Also, check out the free things to do. Many cities offer free or cheap summer activities, like festivals, live music events, and movie nights. These can even be more fun than normal sightseeing. Do all your research, and you'll be sure to save a lot of money while traveling.
Although you can save a lot of money by doing these things, the reality is that you will still be spending. So use the right credit card on your vacation. Whether it be cash back, frequent flier miles, or points, you can earn a lot of rewards when using the right credit card. Many travel credit cards will reward you with free flights, discounted hotels, cruises, and more. And if you are driving to your destination, many cards will reward you for spending money on gas, groceries, and more. Check out the following cards to decide which is right for you: