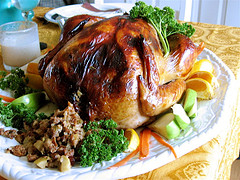 Photo by xybermatthew
The panic-stricken days of Thanksgiving 2008 may be nothing more than a distant memory now, but the fact is the economy still stinks.
Unemployment has surpassed the 10 percent mark, credit markets have continued to tighten, and times are just plain rough for a lot of American families.  It can be downright depressing at times.  However, in spite of all the negativity, I believe we still have a lot to be thankful for in this great country of ours.
Perhaps above all, we should feel grateful to reside in a place where freedom, although it's certainly threatened from time to time, is very much a way of life.  If there's anything I've learned from traveling and living in many parts of the world, there isn't another place on the planet where freedom is so absolute as in America.  I, for one, am grateful for that.
I wish you all a Happy Thanksgiving, and of course, a debt-free holiday shopping season from your friends at Creditnet.com!
In fact, if you're tempted to brave the masses on Black Friday, you may want to check out this week's featured article first—Online Holiday Shopping: 5 Tips for Bargain Hunters.  You may be surprised at what deals you can snag from the comfort of your own home.