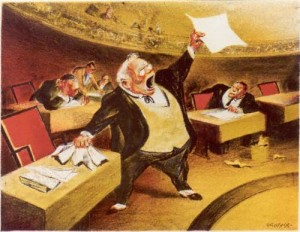 Legislation that will forever change how credit issuers do business is swiftly moving through Congress with the strong support of President Obama and his administration. In fact, the House has already passed its version of the Credit Card Holders Bill of Rights, and now the Senate is gearing up to vote on its own version later this week. We still don't know exactly what will end up in the Senate's final version of the bill, but you can bet it will be even more thorough and complex than what the House put together.
There's no doubt in my mind the Senate will pass this bill and Obama will sign it within the month. It has a great deal of momentum, and consumers are screaming for some kind of change as interest rates continue to skyrocket and credit limits are cut without notice. I have an 800+ FICO score, and I've even had one of my credit card accounts closed without any prior notice. It really pissed me off!
So, I agree that there are some unfair and unclear practices that need to change. Double billing cycle finance charges, the universal default clause, and ridiculous default interest rates are a few of the big ones that come to mind. There clearly needs to be more transparency on the credit issuer's part, and I believe consumers need to take the initiative to become more credit savvy as well. That's why we started Creditnet.com. We have a real lack of credit education among consumers in this country, and we hope to change that one person at a time.
However, I'm always a bit concerned when it seems like we start to go overboard with the regulation. And the Senate's latest version of the bill may still contain some unrealistic requirements that could end up hurting the very consumers it was designed to help. The last thing we need right now is more banks closing accounts and even tighter restrictions on new credit.
What do you think? Will the new legislation restrict credit for those who need it most during these difficult economic times?