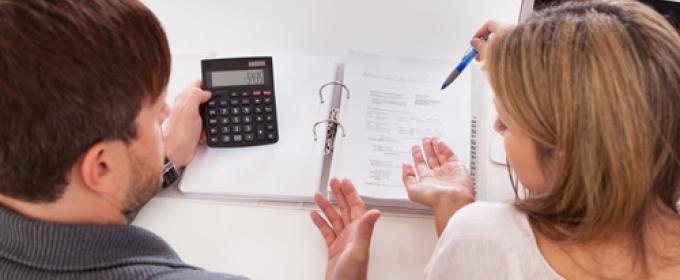 Financial difficulties are incredibly common among married and even non-married partners nowadays. While the idea of sitting down and discussing your financial problems with your partner may seem like a daunting task, not doing so could lead to even greater hardships. Having a sit-down talk with your partner will allow you both to figure out what is best for you financially, and what you can both do to recover from money problems. The task of talking to one another doesn't have to be hard and it shouldn't tear you both apart, instead it should be a learning experience that you both can share together.
When it comes to actually discussing finances with your partner, you may not know what is best for you when it comes to the actual talk. Sending emails or text messages to your partner in hopes of remedying some of the financial problems is a very impersonal way to go about things. It is best to take time out of both of your own schedules so that you can sit down equally as adults to figure out the problem. In a world where many of us tend to use technology to communicate, there are still certain things you should actually talk to someone while face-to-face.
Both Parties Should Be On The Same Page About The Finances
A conversation with your spouse will only go so far if you personally think you're facing financial ruin while your partner thinks the finances are headed in the right direction. One of the first steps to take when discussing finances with your partner is to get on the same page with them. If your partner feels as though there are no problems, show them exactly what the issues are and what the problems are causing in terms of money loss. Your partner may not even be aware of the extent of your financial situation, and they need to be made aware of this before you can both move on.
Allow Both Of You To Come Up With Some Talking Points
You don't have to sit down right here and now to have a two-hour long conversation about your finances. Let your partner or spouse know that you'd like to talk about your finances, but that you'd like to write down some talking points before doing so and that you would like them to do the same. From there, you both can write out questions and comments to bring up when the conversation actually does happen.
Don't Blame The Other For Financial Difficulties
It can be quite easy to blame your partner for financial problems when it seems as though they are the root cause of the issues. However, pointing fingers and blaming your partner will only make things worse. If your partner has a spending problem, for example, you may want to discuss ways that they can curb their spending instead of just telling them that they spend too much and are the cause of these issues. The whole point of having a financial discussion with your partner is to come up with actual solutions to the issue at hand.
Talk About Debt And Discuss Ways To Pay It Off
Debt is a major problem for many couples nowadays, but it can be paid off easily and relatively quickly if the proper financial plans are put into place. When talking with your partner, you'll want to bring up any debt issues that you both might have. Talk about the benefits of reducing this debt, such as an increased credit score or the loss of such a financial burden. From there, think about ways that you can reduce and even eliminate the debt that you're facing. This could mean coming up with a savings account dedicated exclusively to paying off debt, or it could mean putting a bit of money aside each paycheck to put towards those bills.
Talk About Spending Habits
While having a discussion about your finances, now is the perfect time to talk about both of your spending habits. Talk about ways that you both can reduce spending money on a monthly basis. This could include avoiding going to restaurants as often as you do, or possibly biking or walking to work during the nicer months of the year to save on gas. Many people spend a lot more money than they should on things that truly do add up in the end but can be avoided because they are thought of as frivolous. Those trips to the movies, restaurant and local bar may actually be the root cause of your financial problems.
Listen To Your Partner
Even if you are the one who wants to have this discussion and have made the arrangements to actually sit down and talk, it is vitally important that you listen to what your partner has to say. Your spouse or partner may have an issue that you are not even aware of, and listening to these problems can help you to better understand their own point of view. Respecting your partner by listening to them carefully can also help to build your relationship because they feel as though their side of the story is being heard.
Work Together Towards A Bright Financial Future
It is within your own best interests to work together to seek a brighter financial future. Work towards debt management, credit repair and investment savings so that you both can live healthier financial lives. Without your partner by your side, you will not be able to fix the problems that you both share, and this can be a major problem in terms of progression and future stability.
It is never too late to have a deep discussion with your partner about finances. Let them know that you want to have a talk, and that you're willing to work together to fix the problems that you may be having. You will find that by talking to your partner, you are able to feel better about your financial problems because you are actually able to establish a future plan for managing them. Finances can become a burden for many households, and this has all too often been the ruin of many otherwise fantastic relationships. 
One of the main reasons many people deal with these problems is because they are not regularly talking to their loved ones about their money situation. Having a financial talk with your loved one shouldn't be a scary or daunting task, instead it should be something that you look forward to because it means that you will be able to square away problems that have been causing you stress for quite some time. Being on the same page as your partner will help when having these talks, and do not be afraid to write down key points or questions before actually sitting down with them to talk.