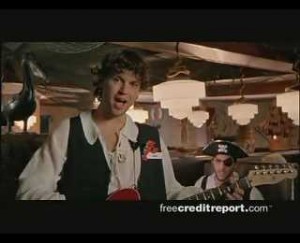 We've all seen the "Free" credit report commercials before. Some love them, most despise them.
But whatever your opinion is of FreeCreditReport.com's advertising tactics, there's no denying how difficult it is to get the catchy jingles out of your head. It's crazy how those melodic rhymes can just find a little crevice in the mind, set up camp, and stick around for days on end.
Of course, if you don't already know, I should make it very clear that there's nothing "free" about getting your credit report from FreeCreditReport.com. If you don't mind enrolling in a credit-monitoring service that costs about $15 per month in order to see your report, then by all means check them out. Otherwise, the only place on the web to get a free credit report, no strings attached, is through AnnualCreditReport.com.
The new credit card rules recently signed into law by Obama will make it much more difficult for consumers to get confused regarding how they should exercise their right to a free credit report each year. In fact, the new rules call on the FTC to ensure free credit report advertisers include the following statement in both radio and TV ads: "This is not the free credit report provided for you by Federal law". Advertisers will also be required to inform consumers that AnnualCreditReport.com is the only place for a free credit report.
So, have we seen the last of the one-eyed pirate drummer and the rocker in green tights? Probably not. Although I will wait anxiously to see how FreeCreditReport.com decides to creatively work within the new laws. According to Compete.com, they still attract nearly 3 million unique visitors to their site each month, so it will be interesting to watch what happens to their traffic during the rest of 2009.