Here are some interesting credit facts to contemplate while you take your Friday-morning coffee break. Prepare yourself, because I know you're excited! According to TransUnion's most recent Credit Risk Index (CRI), the amount of credit risk taken on by consumers is rising for the first time since its peak in 2009, and the driving factor is mortgage delinquency. Apparently the numbers of homeowners who were at least 60-days late on their mortgage began to rise again during the 4th quarter of 2011. Check out the chart below which shows how the CRI has moved since 2005.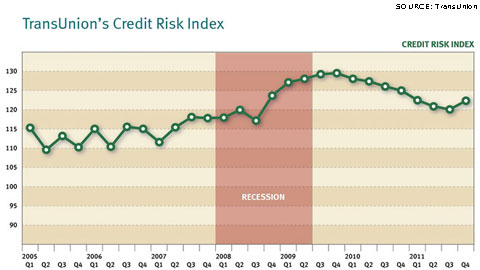 But what about the usual culprit—credit cards? Recent data has shown an increase in credit card use among Americans as well, especially during the holidays. And credit issuers have also jumped back into the marketing game, albeit with a bit more caution, as we've even seen increased marketing of credit cards for bad credit to those with subprime FICO scores. Shouldn't these credit card trends all lead to higher credit card delinquencies and higher credit risk too? You would think so.
However, consumers have continued to do a better job at paying their credit card bills on time and reducing their overall credit card debt since the end of the recession. Meanwhile, as homes values continue to sink around the country and more equity vanishes, making the mortgage payment has become less important for a lot of Americans.
This really blows my mind. In the past, if you were forced to choose between which payments you would make due to financial hardship, the mortgage always came first, then the car loan, and then the credit cards. Why would anyone want to risk losing their home to make payments on an unsecured debt? Well, apparently a lot of Americans are beginning to think they would rather keep their rewards credit cards in their wallet than an underwater roof over their heads. What would you do if push came to shove and you couldn't pay both bills? Would you pay the mortgage or your credit cards? Photo by Taber Andrew