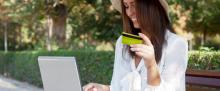 Do you feel that? The sun is shining, the weather is warming up and the baseball season is in full bloom.
That's right - summer is almost here!
Summer's actually a great time to evaluate the plastic you're carrying in your wallet and consider upgrading. Why? Well, tax season is over, bonus cash back categories are getting ready to rotate and a number of cash back cards offer summer-friendly deals for cardholders.