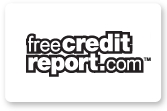 I checked out FreeCreditReport.com today because I was interested to see what changes have been made in light of the new rules that take effect this week.
As you might recall, new regulations that were part of the CARD Act of 2009 require free credit report advertisers to clearly state that there's only one authorized place to get a truly free credit report—AnnualCreditReport.com. The deadline to make this change for online advertisers is April 2nd, while the same requirement for TV and radio ads doesn't take effect until September.
I thought it was interesting to see that FreeCreditReport.com has instead chosen to include a new section on its homepage that describes how federal restrictions have made it impossible to provide consumers with a "free" Experian credit report any longer. Check out the gray box in the lower left-hand corner of their homepage called "Why isn't my credit report free?". They go on to explain that they'll now be charging a $1 fee for your credit report, but 100 percent of the proceeds will actually be donated to Donorschoose.org, an online charity that benefits classrooms in need around the country.
And what do you get for your buck, which Experian will graciously turn around and donate to charity? An Experian credit report, a "free" credit score, and the familiar 7-day trial membership in their Triple Advantage credit monitoring service. And you know how the rest goes...sign up for the trial, get your free stuff, forget about it, and then pay $14.95 per month for a service you may not even be utilizing.
So what do you think? How many more people will continue to sign up for a $14.95 per month credit monitoring service in return for a $1 credit report, free credit score, and a non-deductible donation to charity? My guess is a lot.