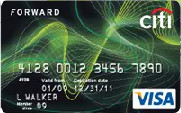 I've heard a lot of hype during the last few days about Citi's new Forward card, so I thought I would take a closer look at what benefits the card really offers to consumers. I must admit that after a quick review of the details, it seems as though the card can actually be quite rewarding. And it has no annual fee! I especially like that part of the deal.
The key highlights of the Citi Forward are as follows:
Quarterly reduction of .25% APR if you make purchases within your credit limit and pay on time for 3 billing periods in a row ( Reduction is capped at 2%)
100 Thank You Points awarded when you stay within your credit limit and pay on time each month
5 Thank you Points awarded for every dollar spent in what Citi considers "responsible" categories such as books, movies, music, and restaurants. 1 point per $1 spent on all other purchases
0% APR on purchases and balance transfers for 6 months
5,000 bonus points awarded if you sign up now and choose to receive paper statements
6,000 bonus points awarded if you sign up now and make $50 in purchases within 3 months
No Annual Fee!
Pictured above, the credit card was launched last week and touted by Citi as its way "to help consumers make good credit decisions by rewarding them for responsible financial behavior." No one can argue that Citi is certainly the first credit issuer to step up and start rewarding consumers for managing credit wisely through reduced interest rates and additional rewards points. However, this just isn't enough to really impress me at this point in time.
Here are my reasons why:
The Thank You Network isn't what it used to be. I redeemed all of my points prior to 3/1 because the rules have completely changed to the degree that the program is no longer competitive with others in the industry
Thank You Points are capped at 75,000 per year for the Citi Forward- I hate caps on reward points
The default rate is still 29.99% - Highway robbery!
If Citi wants to really reward financial responsibility, why not reward customers for paying bills in full as well?
Don't get me wrong, this is a great step in the right direction, and I think the card will do very well for Citi. However, responsible use of credit starts with learning how to live within your means, and that requires consumers to only purchase what they can afford to pay off each and every month.
Since the Citi Forward is clearly targeted towards Gen Y consumers who are usually just beginning to develop their credit profiles, I think this becomes even more of an important issue. So, I would prefer to see Citi rewarding young consumers for not only spending wisely, but also developing a habit of paying off their balances in full each and every month.
What do you think of Citibank's newest credit card?