IDENTITY GUARD®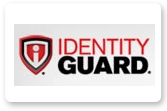 Daily monitoring of all three major credit bureaus

$1,000,000 in loss reimbursement insurance

IDENTITY GUARD® promises you'll get your money back if it's stolen while you're using their services
More Info
Creditnet's Full Review
SPECIAL OFFER: 30-day free trial of the #1 rated Identity Guard® Total Protection(SM)!
Identity Guard® Total Protection(SM) gives you greater confidence that your credit, identity, Internet and mobile life is protected. Live life the way you want to—shop and bank online, surf the internet, email your friends—without the constant worries of identity theft by signing up for Identity Guard® Total Protection(SM).
You'll enjoy the following award-winning features:
Total Protection for your credit: Daily monitoring of all three major credit bureaus; daily scanning of fraudulent credit applications (such as credit cards, mortgages, cell phone accounts, and more); email alerts to notify you promptly of any changes to your credit files; and quarterly updates that include all three credit scores from the three major credit bureaus
Total Protection for your Internet: Daily surveillance of online black markets to alert you if your social security number, credit cards, or bank account numbers are being traded, exchanged, or sold by identity thieves; monitoring for changes to publicly available information, which if inaccurate, could cause you to be denied for credit or employment; access to your publicly available information in one report for easy access and reference
Total Protection for your computer: Save $100's in anti-virus, firewall, and anti-spyware software with free enrollment in ZoneAlarm® Internet Security Suite for the life of your enrollment with IDENTITY GUARD®; added security with PRIVACYPROTECT® software, which encrypts every single keystroke while you're online, ensuring keyloggers are unable to see what you're typing
Total Protection when you're on-the-go: MOBILE LOCKBOX® is a new secure storage for your personal and financial records accessible through your computer or web-based phone; connect to wi-fi hotspots with your key strokes protected from keyloggers; lose your wallet and make one simple call to IDENTITY GUARD® and they'll cancel all your credit cards for you plus give you access to up to $2,000 in emergency cash
And that's not all. IDENTITY GUARD® gives you much more protection than you may ever need, including up to $1,000,000 in loss reimbursement insurance. Simply put, if your money is stolen by identity thieves, IDENTITY GUARD® promises you will get it back! They have a special identity theft recovery unit that will guide you through the process of recovery in the slim chance your identity is stolen while signed up with Identity Guard® Total Protection(SM).
Sign up today for IDENTITY GUARD® Total Protection(SM) and try this service for free for 30 days. Let the experts monitor your identity.