Quicken Home Loans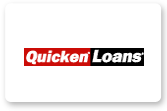 Easy way to get a home loan (new mortgage, refinance, or home equity loan)

Quicken closes loans in half the time of most other lenders!

Save money on your home loan
More Info
Creditnet's Full Review
Quicken Loans is the #1 home loan lender online.
Whether you want a home mortgage for a new purchase, a home equity loan, or a refinance for your existing home, Quicken Loans provides the easiest way to get a home loan.  In just minutes, you can get mortgage rates, closing costs, and loan suggestions online.  They know time is of the essence too, which is why Quicken closes loans in half the time of most other lenders!
When it comes to refinancing, Quicken Loans offers the choice of a government backed secure FHA loan, allowing you to refinance up to 97.75% of your home's value!  Or you can take out up to 85% of your home's value with a FHA cash-out refinance.  Even if you're under water and owe more on your home that it's worth, you can still qualify for a lower mortgage payment.
Spend a few minutes today to see how Quicken Loans can save you money on your home financing needs.